Writing Holiday or Writing Retreat? It's hard to say, as this was both. For some, it's a chance to escape from distractions at home in order to focus on a writing project; for some it's a chance to be surrounded by other writing minds in order to get feedback, find new ideas and a springboard from which to launch a new short story, novel or poem. For others it's a chance to relax, chill, reflect, and enjoy the excellent food, the Spanish vibe, the sun and the pool…
From the start I told the group that the amount of time they spent on individual writing was entirely their decision – this isn't the place for hassling people to write or providing deadlines; it's far too chilled for that. But everyone did write. And as usual we ended up with an eclectic mix which included autobiography, children's writing, a historical novel, travel writing, fiction based on true events, and lots more besides.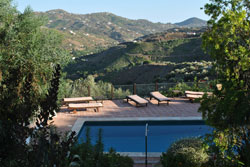 This year we welcomed three new writers to the group and they fitted in with ease. It's always great to see familiar faces but we need some fresh faces too – that's always the best mix. We had morning writing sessions in the cool, white workshop and late afternoon feedback sessions under the carob tree on the terrace. We had a meeting in the tree house Gordon has built inside an olive tree (yes, really) and one to ones in one of the shady chill out areas with stunning mountain views. On our day off some of us went to Competa for lunch and on Saturday we went to the market there. We had evening meals there twice (all included in the price of the package) memorably at Oscars, from where we went on to watch some traditional flamenco dancing, and once at the nearer village of Canillas. The rest of the time we ate at the finca (where the food is wonderful, but I must stop going on about the food). Because we were there to write and write we did. It was wonderful. Thank you to everyone who helped make it happen.