House of Correction by Nicci French ****
Tabitha has returned to the remote coastal village where she grew up but it seems that this was a mistake. She didn't fit in then, and very little has changed – apart from the fact that (crucially) she is being accused of murdering her old schoolteacher Stuart Rees. The question is – did Tabitha do it? It seems that she had the motive, and his dead body was certainly found in her shed. But Tabitha is suffering from severe bouts of depression and she can't remember the events of that day. It's a blur. She doesn't think she is capable of murder – but who else could be responsible?
As Tabitha is in prison awaiting trial, she rejects her defence lawyer's suggestion to plead guilty to manslaughter and decides to represent herself. She trawls through hours of CCTV footage and piles of paperwork in an effort to discover the truth, fighting, against all odds, to clear her name and claim her freedom.
In this twisty tale, Nicci French tackles themes of prejudice, loneliness and the fighting spirit, producing, as always, an excellent and compelling read.
The Elopement by Tracy Rees ****
It is 1897 and society beauty Rowena Blythe is feeling the pressure. She is expected to marry well and soon… but she is restless. Surely there is more to life than what she is experiencing right now?
It turns out there is much more. Rowena falls in love with the romantic and bohemian artist's apprentice who is helping to paint her portrait and for Rowena, things will never be the same again.
The other main protagonists in this warm and engaging story are Pansy, servant girl at the Blythes' but with other and bigger ambitions and Olive Westallen, a woman with a fortune equal to that of the Blythes' but with a very different attitude towards what she should do with it. Olive was my favourite character in the book – she has such a refreshing attitude to life and she embraces the unconventional; she seems untouched by the hypocrisies and narrowness of late Victorian times; in contrast, she has set up a foundation which attempts to help those without means, without a voice and without money, so that they can learn to make their own way in life. Through Olive, Tracy Rees questions high-handed patriarchy and misogyny as well as the unfairness of the class system of the time.
This author has a gift for story-telling and for creating warm, lively and individual characters who spring from the page and to show us what late-Victorian life was like for some – in the most delightful and entertaining way.
Small Things Like These by Claire Keegan ***
It is 1985 in a small Irish town where life is hard for many people. During the weeks leading up to Christmas, Bill Furlong, a coal merchant and family man faces his busiest season and at least has a house and enough to eat. He loves his family, but he is restless. Is this all that life holds, he wonders? This endless struggle to make ends meet? His wife Eileen is of the opinion that it's better not to think too deeply about things, but it's not like that for Bill. He sees his future stretching in front of him – an endless routine of work and identical Sundays ruled by the Church. He always has worries on his mind. But lately, he has started imagining something different…
Early one morning, while delivering an order to the local convent, Bill makes a discovery which forces him to confront both his past and the complicit silences of a town controlled by the Church. He is a good man, his own upbringing was dependent on the kindness and goodwill of others towards his un-married mother and now, he wrestles with his conscience. Can he live himself if he ignores what he has discovered? Or can he find the courage to show true Christian compassion in the face of the anger of the Church?
This book is a short read and it feels under-developed in terms of the ending, but it is hard-hitting and thought-provoking and will stay with you for much longer. Highly recommended.
My Name is Lucy Barton by Elizabeth Strout ***
Lucy Barton is recovering slowly from what should have been a simple operation. Her mother, to whom she hasn't spoken for many years, comes to see her and this unexpected and often moving visit forces Lucy to confront the tension and longing that have informed every aspect of her life: her impoverished childhood in Amgash, Illinois, her escape to New York and her desire to become a writer, her faltering marriage, her love for her two daughters.
Lucy is an observant and fluent narrator and I enjoyed the quips and comments about human behaviour, memories and the way we all manoeuvre our passage through the world. The structure of the book is interesting – we flip back and forward in narrative time continually, but it is always clear when and where we are. And the writing style is direct, conversational, almost poetic at times in the use of repetition, which works well to create tension too.
As a writer, I enjoyed some of the writerly bits, for example when the narrative voice is confused with the author's voice by a reader, and some of the comments about how writers have to be, and there were some powerful touches throughout. Above all in this book, the mother and daughter relationship is key. Highly recommended.
Free Love by Tessa Hadley ***
Set in London in the 1960s, this novel captures the vibe of the time; the sense of sexual and intellectual awakening for women. The Fischer family seem at first to belong to a different world of suburbia and conventions. Phyllis is the domestic goddess – or at least a homemaker who is fortunate enough to have a cleaner and home help – but she is expert at playing the part expected of her. She has had a sheltered upbringing and little sexual experience before meeting her husband Roger, and she seems content to flirt meaninglessly at parties and to focus on making the house look beautiful. Roger is a devoted father with a career in the Foreign Office; their marriage is considerate and affable, but clearly not passionate nor based even on a strong love and affection. Their children are Colette, a bookish but wanting to be rebellious teenager, who is trying to fit in, make friends at school and find a way of being herself at the same time and Hugh, the golden boy, adored by his mother.
Everything changes for this family when the twenty-something son of an old friend pays the Fischers a visit one hot summer evening, and kisses Phyllis in the dark garden after dinner. Something in her catches fire. Newly awake to the world, Phyllis makes a choice that defies all expectations of her as a wife and a mother.
It turns out that nothing in these ordinary lives is so ordinary after all, as the family's upheaval mirrors the dramatic transformation of the society around them. Tessa Hadley is expert at exploring her characters' inner worlds, laying bare their fears and longings.
My one criticism of this book is that the ending felt rushed. I felt that I wanted more development of the main characters at key moments in the later stages, whilst in fact we were whisked rapidly through narrative time in these sections. However, I still loved the book and it was a hugely enjoyable read.
Tell Me How to Be Me by Neel Patel ****
Akash is a struggling songwriter who is also struggling to come out to his family and overcome his unhealthy relationship with alcohol. Added to this, his father Ashok has recently died.
Akash's mother Renu was pressurised into an arranged marriage to Ashok but has always loved another man, a Muslim, and found it hard to relate to her younger son.
I was quickly drawn into this story of complex relationships, and I appreciated the rapid and snappy viewpoint sections moving to and fro between Akash and Renu. It is a style which enables the characters and situations to be developed and explored in an intense and revealing way. Most of this narrative is addressed to the 2nd person 'you' (there are two 'you's) and this adds a touch of mystery and narrative tension to the early stages of the novel. Do these romantic relationships exist only in the mind? Only time will tell.
But the novel works so well because not only does it address big personal, sexual and cultural issues as well as family drama, but it is harrowing and also (at times) hilariously funny. That's my kind of combination and I loved it.
It's raining and it feels like we are still waiting for spring, so maybe some reading might help? Take your pick from this fabulous line up… 🙂 
The Island of Missing Trees by Elif Shafak ****
This book felt to me like a complete experience, and an immensely satisfying one.
The story is written with a dual timeline narrative; it is set in the 1970s during the Civil War in Cyprus and later in present day UK. The historical love story is between Kostas, a Greek Cypriot, and Defne, a Turkish Cypriot, a couple ultimately forced to leave Cyprus because of their love for one another in this climate of prejudice and unrest. But there are twist and turns to this love story. The 1970s in Cyprus were years of pain, suffering and hardship and the author doesn't hold back on portraying the harsh realities of war. Moreover, it is a suffering that can remain a legacy for the younger generation, we learn, as their daughter Ada deals with her own trauma decades later.
The relationships are interesting, complex and cleverly drawn – between lovers, between sisters, between Ada and her Aunt Miriam – who turns up in England and who provides the link between the past events and the current narrative.
The author skips viewpoints – taking on most perspectives, at least where there is an emotion or fact to be explored, including the viewpoint of a fig tree, albeit a very special fig tree, which grew in war-time Cyprus, was smuggled to the UK as a cutting and which ultimately survives the harsher UK climate although it has to be buried during the winter to do so. This fig tree, which has experienced so much, takes on the role of omniscient narrator and provides much of the rich detail of the book, including a host of fascinating facts about the natural world.
Although the book explores mainly the experiences and emotions of one family, the author also offers an entire tapestry of lives lived in two different timeframes. Can pain and suffering be somehow passed on genetically to future generations? This is just one of the thought-provoking ideas that emerge from this complex and original narrative. Highly recommended.
Songbirds by Christy Lefteri ****
Also set in Cyprus, Lefteri sets out to highlight the invisibility of Nisha, a domestic worker (of which there are many) from Sri Lanka, who has been forced by poverty to leave her family and move abroad in order to care for someone else's, so that she will be able to send money home.
The narrators are Yiannis, her secret lover and Petra, her employer, and the story begins when Nisha has disappeared. But where has she gone? Yiannis fears that he has frightened her into running away, but Petra quickly realises that Nisha would not have left without her few precious personal possessions and without saying goodbye to Petra's teenage daughter Aliki, who she has cared for since she was a baby.
Through Yiannis's and Petra's recollections, we learn about Nisha and her life, which makes her visible at last. The more questions Petra asks of people around her, the more she realises how little she knew of her employee, and how little she cared. Petra has been swamped by grief since losing her husband and has allowed this grief to form a barrier between her and her daughter; Nisha meanwhile, has taken over the role of motherhood while being unable to be a present mother to her own daughter.
Yiannis has been drawn into the illegal poaching of songbirds in order to make money and now finds it hard to extricate himself. He realises that he has not been the man Nisha thought him to be. But is it too late to change? And what has happened to Nisha? Slowly, the book reveals all. Unsettling and thought-provoking, but beautifully written. Highly recommended.
The Secret Smile by Nicci French ****
Nicci French has long been one of my favourite authors (or I should say author partnerships) and I found myself re-reading 'The Secret Smile' this spring. It is slightly dated, yes, but as Erin Kelly points out in her introduction, it provides a master-class in how to write a psychological thriller.
Miranda is the viewpoint character throughout. She is a painter and decorator and she works for her Uncle Bill; clearly, she is an independent and intelligent young woman. But when she meets Brendan – an apparently charming, attractive and lovely man – things start to unravel. For starters, Miranda only wants a casual fling, but for Brendan the relationship is something else entirely…
Most of the book is about how Brendan gets his revenge after Miranda dumps him and it is chilling stuff. The narrative becomes more and more disturbing and Miranda's frustration when no one believes her, grows into something darker too – she even starts doubting her own sanity. Will she find a way of getting rid of ghastly Brendan or will he destroy her? This is the question that hums silently through the book. The tension is unrelenting, the book is impossible to put down and the ending is as satisfying as it gets. There you go. Nicci French has done it again. Highly recommended.
The Family Remains by Lisa Jewell **** (My book of the Season by a very narrow margin…)
This book is a sequel to 'The Family Upstairs' but can be read as a stand-alone. In the beginning, it is a challenge to remember who is who in the cast of characters, but once you get it, you will be hooked immediately into a brilliant and twisty story. Be warned – this book is very hard to put down.
Henry and Lucy Lamb and Phineas Thomsen were brought up in a 'house of horrors' in Chelsea where the Lamb family were conned and abused by Phin's father David and his lover, a musician called Birdie. When the story opens, Henry and Lucy and Lucy's daughter Libby have inherited the Lamb estate and their money problems are apparently over. But Henry and Lucy are living incognito and when Birdie's bones are found dumped in a river, they fear discovery. The three are keen to locate Phin, who is Libby's father and the object of Henry's obsession and their search takes them to Chicago.
Meanwhile Rachel, the wife of Lucy's first husband Michael Rimmer, is informed of his death and a fascinating sub-plot develops, which finally connects to the main drama in a very satisfactory way. Who killed Birdie? Will Phin be found? Can the characters recover from the abuse they have suffered and move on? This is LJ at the height of her powers. A must-read.
The Editor's Wife by Claire Chambers ***
The story is narrated by Christopher Flinders, once an aspiring novelist, but now living in rural Yorkshire. When he is approached by a young academic researching into the life of the editor Owen Goddard, who believes there is a connection between them, he initially tries to fob her off. But her visit prompts him to re-visit his past and his relationship with Owen and his charming wife Diana.
Chris is also struggling with his relationship with his brother Gerald, who for reasons of his own, is trying to prevent the sale of the family home following the death of their parents.
The story shifts between these two sets of narrative time. When Chris's ex-wife Carol pays him a surprise visit, Gerald also appears unexpectedly and then the academic turns up to collect a manuscript from Chris that will reveal all, the pace quickens as the present collides with the past. But what will happen next and will Chris be able to move on from the disastrous error of judgement he made as a young man?
As ever, Chambers writes with attention to the minutiae of life and she takes us on this journey with wit and ease. I always enjoy this author's writing. In my opinion, this isn't her best, but nevertheless it is an enjoyable read.
The Shell House Detective Agency by Emylia Hall ****
In this engaging story set in Cornwall by the sea, we meet neighbours Ally and Jayden, who team up together to solve the conundrum of newcomer and neighbour Helena Hunter's mysterious disappearance. Since Ally's husband Bill, a police sergeant, died, Ally has been lonely, missing Bill's companionship and love but also missing the cases he worked on and the discussions they used to have. Jayden, new to the area, also used to be in the police force, but left, following the fatal stabbing of his work partner Kieran.
What has happened to Helena Hunter? And was Lewis Pascoe – discovered badly injured at the bottom of the cliff on the same morning as Helena was last seen – involved? Did Lewis fall? Did he jump? Or was he pushed? And what – if anything – does this have to do with Helena?
The sleuthing pair are aided and abetted by a cast of characters including surf-girl Saffron who runs the local café, Tim Mullins a PC capable of much more than first appears, and Gus, a recent divorcee who is trying to write a novel.
The story is warm and engaging, the characters are well-drawn and the plot keeps the reader guessing. But the star of the show for me is Cornwall itself. Emylia Hall catches the beauty and magic of the landscape on every page. Highly recommended.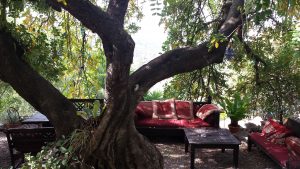 Every time we visit the glorious Finca el Cerrillo we have an amazing week… Different groups bring different experiences and since we always tackle different writing topics, no week is ever the same.
This week the weather was on our side. Warm sunny days meant that we were able to have lunch outside on the terrace and our afternoon feedback session siting on the 'Palm Deck.' On our day off midweek, several of us walked the short distance to the nearest village of Archez for lunch; others tried a more challenging walk and a few of the group stayed at the finca to write and make the most of some me-time.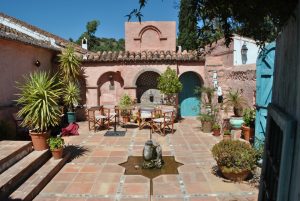 In the morning sessions we covered the writing of flash fiction and short stories (good practice for the tandem story later in the week), sensory overload (taking in autobiography and descriptive writing),  the significance of objects and bringing variations into our writing. We also looked at novel beginnings using books plucked at random from the finca's library.
Patricia was kind enough to provide a stimulating watercolour for beginners activity one afternoon and Elaine organised a fun evening quiz. We had music and dancing for Louise's birthday and a hilarious singalong run by Rosemary. On the final night Gordon did his usual 'desert island discs' night.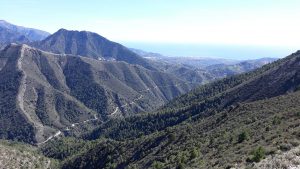 This was another special group with writers of all genres and experiences; everyone combining into a dynamic whole in order to make the week an entertaining and fulfilling one. Yes, it was definitely a writing holiday to remember…