I've been busy writing my new WIP and promoting 'The Orange Grove' this spring and early summer but here are a few summer reads that I've enjoyed – starting with my Book of the Season, 'Playing Nice' by JP Delaney . Happy Summer Reading…
Playing Nice by JP Delaney *****
JPD happens to be one of my favourite authors. He has this way of drawing you in from the first page and he will not let you go. This book is no exception.
Peter Riley has just dropped his rather difficult two year-old Theo off at nursery when two men come round to the house. And guess what? One of them is an older version of his son Theo… We want to talk to you about your son, they say. Uh huh. This is the kind of opening I'm talking about.
I don't want to give away any spoilers but let's just say there has been a mix-up (!) and two sets of parents have ended up with the wrong baby. What should they do? They could be polite and civilised and find a way of dealing with this without too much upheaval and distress by 'playing nice'. But what if that doesn't work? Then I suppose it's time to 'play dirty'.
The main characters are all complex, flawed and believable, just as you would expect from a JPD novel. The plot is delightfully twisty and unexpected. There are some thought-provoking issues such as the relevance of nature versus nurture and the strength of blood ties. And as usual, the author delves into the psychology of the situation with wit, realism and empathy.
There is a bit of a plot contrivance which should stop me giving this book 5 stars, but I enjoyed it so much that I'm letting it go. Very highly recommended. The best psychological thriller writer around IMO. And my Book of the Season.
Unbreak Your Heart by Katie Marsh ****
I was fortunate enough to be sent an advance copy of Katie's new book which I devoured in just a few sittings. It's that kind of book – emotive and warm, it kind of wraps its arms around you and envelops you in a warm hug. Right now, that feels very welcome.
Seven-year-old Jake has a serious heart condition which he has learnt to live with. But he knows that the further operation – which he must have in order to lead an active life – doesn't come without risks. Jake could die and while this is scary in itself, he also doesn't want to leave his dad, Simon, on his own. Simon has been managing alone since Jake's mother Tamsin left, and Simon has been grieving for the loss of the love of his life ever since, while struggling to earn a living at the same time as caring for his son. But is she really the woman he thinks she is and how would he feel if Tamsin came back into their lives? Simon is about to find out.
Beth, Simon and Jake's new next-door neighbour, has come to the small village in the Lake District, determined to forget the past and the mistakes she made while working in the US as a critical care nurse, which continue to haunt her. She becomes drawn to the man and boy next door and the consequent friendship changes each one of their lives forever.
There aren't any great surprises in this book. But it doesn't matter, because what there is, is a whole lot of heart. Katie Marsh writes with great insight and sensitivity, her characters are well-drawn and the story just zings with emotion and warmth. A feel-great story. Highly recommended.
Queenie by Candice Carty-Williams ***
Queenie is a 25-year-old Jamaican British woman living in London and working as a journalist. After a messy break up from her long-term white boyfriend, Queenie is looking for comfort – but not always in the right places. After various disasters that only serve to increase her lack of self-worth, Queenie begins to suffer from anxiety and depression and the book becomes darker as the author explores online dating, anxiety and racism, mixing up serious issues with humour and the value of friendship and love.
The book has been compared to 'Bridget Jones' Diary' – a comparison that probably relates to the journalistic style of the writing as well as the humour; it is natural, fresh and uncensored, with a strong sense of personal voice and lots of showing rather than telling. I liked this aspect of the book. But be aware that the humour sometimes sits uncomfortably with the dark places to which the narrator goes. Bridget Jones is dippy and embarrassing; Queenie is a far more complex character.
When I started reading, I wasn't sure how much I liked this book. It seemed so 'in your face' that it was almost too much. However, as the story developed and the complexities emerged, I was completely gripped by Queenie's story.
The Sight of You by Holly Miller **
Mascara warning for this one – it's not just romantic, it's the epitome of romantic and will appeal to all the non-cynics out there who believe in true love, soul mates and the power of love…
It's written from the two points of view of Joel and Callie, two appealing characters who meet in a coffee shop. Their relationship isn't straightforward though because Callie is grieving following the death of her best friend Grace and Joel has a good reason for not falling in love. He has a secret – he dreams about the people he loves, and those dreams always come true. It's torturing him. He has had to give up the job which was his life and he has become a caffeine addicted insomniac – dreading what he might dream about next. Nevertheless, he is drawn to Callie and eventually gives in to the power of love…
But one night, Joel has the dream about Callie that he's been most fearing and they must both decide: can they stay together and live with the knowledge of what is to come or must they let each other go and find happiness elsewhere?
I have to admit that I found it hard to suspend disbelief at times. The story is well-written (if a little over-written at times) with a fresh style and it's certainly emotive and immersive, but sometimes it's almost too much. Perhaps I'm too cynical after all? Judging by the reviews, I'm certainly in the minority when it comes to this book. I couldn't quite believe in the completeness of Joel's dreaming, characters that were almost too good to be true nor that two people so much in love would let each other go. I love a good romance but this was just too romantic for me…
The Mothers by Sarah J Naughton ***
This is an intriguing psychological thriller about five mothers (only one isn't a mother): Chrissy, Bella, Skye, Electra and Jen who formed a friendship when they met at their antenatal group. Now, several years later they are still friends and see each other regularly. But one of their husbands has gone missing…
When we first meet them – sometimes from their viewpoint and sometimes from that of the main investigating officer who pits her powers of problem-solving against that of a certain 'master-criminal' – they seem to have little in common apart from motherhood. How close are they really? This question runs through the book and the author cleverly reveals the information we need to answer it, bit by bit within a series of well-structured twists and turns.
At the heart of the story is the disappearance of Bella's husband – but who dunnit and why? The book explores the themes of friendships, motherhood and secrets, of post-natal depression and stillbirth, marital relationships gone right and wrong and lots more besides. It's packed with drama and is an entertaining read.
The Secrets of Strangers by Charity Norman ***
The paths of five strangers cross in a London café one morning when an apparently crazed gunman runs in and holds them hostage. The novel is multi-viewpoint so we get to know all the characters one by one and gradually learn that they all have secrets which are somehow addressed through this terrifying situation. which enable them to cope with the situation and also relate to Sam the gunman who has plenty of secrets of his own. Meanwhile the police negotiator Eliza is there to listen to Sam's story for the benefit of all the characters and readers too.
I found this story to be well-written and gripping, with good tension and characterisation. I believed in the characters to a great extent; it was the way they all got on so well (including the situation) and the feeling that a character had been selected from every possible walk of life that made it hard to suspend disbelief. Sam's story being told to Eliza in full also seemed rather a contrivance and there was a sentimental slant that spoilt the drama for me.
However, I liked the way that the 'hostage situation' was upended, the blurred line between right and wrong that was presented and the fact that as readers we probably ended up feeling sorry for those we might not expect to feel sorry for. There was a lot of nice emotion and sense of character journey and complexity, and the beginning in particular was dramatic and exciting. A very entertaining and compelling read.
Someone Like You by Tracy Corbett
This is a rather delicious romance just perfect for reading in the summer sun, preferably in a sun-lounger with a glass of something cool and fizzy to hand. Lileth Monroe has not had an easy time of it. She has spent most of her young life caring for her elderly grandparents and when her grandfather dies she is desolate. She has ambitions to be a costume designer, but real life and her shy personality have kept her working at a patterns factory where she is underpaid and under-appreciated.
Enter the Caribbean. While on holiday, Lileth decides to re-invent herself as Lily. She already is funny and clumsy but she will now become quirky and confident too – a plan that doesn't always work out but which does throw her into the arms (literally) of our hero, Will, who is still mourning the death of his wife and has work problems too.
There are plenty of obstacles along the way to stop these two getting together, and although this is a simple and romantic tale, there are some thought-provoking issues being addressed, such as grief and the problems of being a single parent. As always, Tracy Corbett writes with warmth and humour about characters who are both flawed and lovable and as always this is a hugely entertaining read.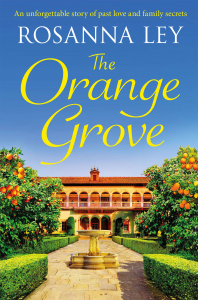 'The Orange Grove' features two of the characters making a very special cake – a Seville Orange and Almond cake. It is made from an old secret family recipe which was handed to Ella when she was attending a family party and flamenco performance in Seville many years before. But for Ella, the cake – and therefore the recipe – has added significance and brings back memories of her time in Seville, which she has tried to push aside.
This special cake is traditionally made at times of celebration. Bitter Seville oranges – not available all year round – give it an evocative bitter-sweet flavour which resonates for Ella with the memories themselves, whilst the ground almonds are deliciously rich and fragrant.
Some readers have asked for the recipe. To start with, I told them that this is a secret family recipe (!) just as it says in the book, but since it is so good, I thought I'd relent and publish it here.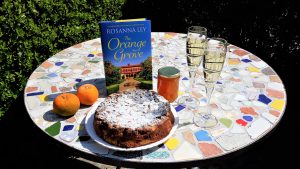 And here's one a friend of mine made earlier!
The cake is best enjoyed – as you can see – with a glass of fizz.
If you make and enjoy the cake, I do hope that you will let me know – and send a photo if possible. Thank you!
Seville Orange and Almond Cake
Ingredients:
2 Seville oranges, about 280 g (10 oz) scrubbed & roughly chopped (with skin)
5 eggs, separated
200 g (7 oz) caster sugar
225 g (8 oz) ground almonds
2 tbsp flaked almonds
Zest of half a lemon
sifted icing sugar to decorate
Method: Prep: 1 hour. Cook: 55 mins. 
Put the chopped oranges in a small saucepan, discarding any pips. Add 1 tbsp water, then cover and cook gently for 30 minutes or until the oranges are soft and excess liquid has evaporated. Leave to cool.
Preheat the oven to 180ºC (350ºF, gas mark 4). Line the bottom and sides of a 23 cm (9 in) springform cake tin with baking parchment. Finely chop the oranges in a food processor or blender, or with a large knife.
Put the egg whites in a large bowl and whisk until they form stiff peaks. Gradually whisk in half the caster sugar, then whisk for 1 minute.
Using the same whisk, whisk the egg yolks with the remaining caster sugar in another bowl for 2–3 minutes or until pale and quite thick. Whisk in the finely chopped oranges, then carefully fold in the lemon zest and the ground almonds.
Stir in 3 spoonfuls of the whisked egg white to loosen the mixture, then gently fold in the remaining whites with a large metal spoon. Transfer the mixture to the prepared tin and level the top. Sprinkle with the flaked almonds.
Bake for 50–55 minutes or until the cake is golden and a skewer inserted in the centre comes out clean. Check the cake after 20 minutes and again at 30 minutes, and cover lightly with foil if it is browning too quickly.
Leave the cake to cool in the tin, then turn it out, peel away the lining paper and transfer to a serving plate. Dust with icing sugar before serving. The cake can be kept in an airtight tin for up to 2 days.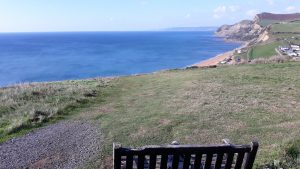 For any writer put off by the blank screen and finding it hard to get started on a poem, a short story, the scene of a novel or whatever, I would suggest switching to a notebook and pen. Time-consuming it may be, but there's something special about writing this way and for me anyway, the blank page is more of a friendly invitation than the rather scary blank screen in my office.
And it's more portable and sun-friendly. I often pack some water and a notebook and pen in a rucksack and head off on a writing walk. Exercise and getting some work done – it's a double whammy and hard to resist when the sun is shining.
First – switch off your phone, or even better leave it behind. Then, the exercise bit – this might involve climbing up a cliff path or walking along a beach until you get past all the people, but it could equally be walking to the park or a café, or wherever you think you might like to sit down and do some writing.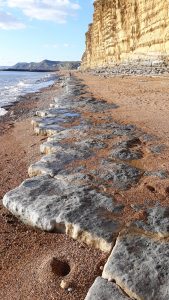 It's not only exercise though – this is multi-tasking at its best. Whilst walking (or running or cycling or whatever) you can look around you, let your mind wander, do a bit of nature (or town) appreciation. It's calming. The rhythm of the walking bit, the mind-wandering bit, the nature bit – I believe all these help you relax and forget other non-writing related problems that might be on your mind. They're a kind of lead-in into the sort of head-zone that helps us to write.
Sometimes though, I might be walking in order to sort out a plot problem. In this case, I'll let – even encourage – the work to come into my head as I walk. But I don't let myself stop too soon in order to write things down. Oh, no. Instead, I'll drive myself crazy by mulling things over, by letting the thoughts crowd in (in an ideal world) by listening to all the characters as they gabble away to one another. When I come to my stopping place I can't wait to start writing. Frankly, I'd go even crazier if I couldn't…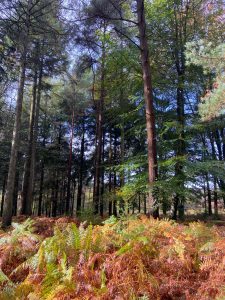 Hopefully you'll have a place in mind. I have a few. One of my favourites is overlooking a local beach, but I also like being on any beach watching the ocean, in the woods or in a quiet park on a bench with birds singing their hearts out. Even a noisy café can work for many people – it's easier to shut out that kind of noise than it is just one person talking on the phone at home (or so I have found – haha).
Once there, have a swig of water, relax, take in your surroundings and get your notebook out. And if nothing comes to mind, then write about where you are, what you can see, smell, hear, touch or taste. Write about how you feel or how you felt yesterday. Just get in the zone. It doesn't matter what you write. It matters that you write. And enjoy.