Six fire-crackers to warm you up this autumn…
How to Kill Your Family by Bella Mackie ****
A tantalising prospect for Autumn… Haha. I was drawn to this book by its title and guessed it might be similar to 'My Sister the Serial Killer' in tone. It wasn't, not really. There was a less comedic element – it felt more real; this killer is deadly serious.
Most of the book is written in first person narrative from the viewpoint of Grace, who wants to avenge her mother. Marie was badly treated by Grace's father, Simon Artemis, a married, rich tycoon who refused to acknowledge or provide for her. Marie died in poverty, having brought up her daughter alone, and Grace has become bitter and determined to make her family suffer… by killing them off one by one.
The plot is made more complex by the fact that Grace is writing the journal in which she confesses all, in prison – although it soon transpires that she has been convicted of a murder she didn't commit, rather than one she did.
The author takes us between contemporary narrative time with Grace writing her memoir in prison to the past narrative, taking in a few murders on the way.
Will Grace get away with it? Will she win her appeal? And will anyone find out her secret? These are the questions that provide the narrative tension and make us want to read on. Equally compelling is the writing. Mackie's narrator is an intolerant, harsh and witty critic of human nature and behaviour in general and I couldn't help but warm to her… (Well. She'd had a bad start, after all 😉).
But the ending provides a nice twist which I found fairly satisfying. I just hope Grace agrees with me – because we never actually find out… Recommended for those cynics among us who appreciate a harsh wit 😊
The Invisible Girl by Lisa Jewell ****
How does she do it? This is another brilliant story from LJ. The Invisible Girl is Saffyre, a young girl who has had her share of trauma which resulted in her going to see a child therapist/ psychologist Roan Fours. Although he considers her 'cured' she is not so sure and so begins a bit of an obsession as she begins to follow him and to find out more about his family…
Moving on to the viewpoint of Cate, Roan's wife… We realise from the start that there are and have been marital problems – but he seems like a nice guy, they live in a nice place and their two teenage children are relatively normal. But of course, this is a Lisa Jewell book so nothing is quite what it seems. In fact, everything and everyone is rather creepy when you come to think of it. And this is Hampstead!
When Saffyre goes missing, the obvious suspect is Owen Pick, the especially creepy guy who lives opposite the Fours family and who has already been suspended from his teaching job because of alleged sexual misconduct. But quite a few people know more than they are saying – especially Saffyre, the Invisible Girl. The characters are brilliantly developed and convincing and the fast pace will keep you turning those pages as fast as you can. Another masterclass in how to write a gripping psychological drama – it's dark and it's thought-provoking and there will always be a few surprises along the way. Highly recommended.
Three Hours by Rosamund Lupton ****
This story takes place during a dark and tense three-hour period in mid-winter during which a Somerset school is held under siege by gunmen. It is told through the eyes of various teachers who are desperately trying to protect the children they care for; two Syrian refugees, Basi and Rafi who are brothers and who have already gone through terrible trauma during their young lives; the mother of a boy who simply cannot be found and the police officer who is leading the investigation into the possible identity and psychology of the gunmen and the attack. Using so many different viewpoints made the book fragmented, with a structure made up of a lot of short sections, but this worked in the context of this particular subject matter, even adding to the tension.
The book is dark and fascinating and Rosamund Lupton delves into the psychology with an expert and subtle hand and mind. Above all though, it is uplifting – exploring the lengths of bravery people can reach as a matter of instinct, the way in which they can overcome the effects of trauma and suffering and what they had thought to be debilitating depression or shyness. Every character has their part to play. Indeed, role-play and theatre become central to the plot as one group of children is trapped in the theatre, apparently the safest place in the school, and they continue to rehearse Macbeth in order to distract themselves from what is going on outside.
Despite the rather unlikely and implausible ending, which seemed unnecessary (children pretending to be trees? Why??) I found the story gripping and yet told without unnecessary melodrama; the emphasis being on the unwavering strength and bravery of humankind. Highly recommended.
The Paper Palace by Miranda Cowley Heller ****
This story is set mostly in Cape Cod, a place very close to the heart of Elle, the main narrator, who has spent most of her summers holidaying there. It opens just after Elle has found out something important concerning her past (though we're not told what). What we are told is that she has just had sex with her oldest friend Jonas, a man she has always loved but never been able to be with. The problem being that they are both married to other people and their spouses are inside the Big Cabin only yards away. What will Elle and Jonas do next?
Following this dramatic and emotive opening, we are taken back to Elle's beginning – to her birth, her childhood, the traumatic events that led up to this moment. Interwoven with this narrative we have the current holiday and the beginnings of Elle's guilt and indecision, wrapped up with her feelings about her husband and her three children. This structure works well and it was always clear to me where we were in narrative time. It also added to the tension as we wait for her decision.
Only after all of Elle's secrets are revealed (in particular the one that she shares with Jonas alone, which has created a bond between them but which also prevented them from being together) will we find out what Elle and Jonas do next. I found the ending a little confusing. Who does she choose? Reading back, I think there are enough clues for us to know.
It is the characters that make this novel sing – they are flawed, interesting, funny, intense and charismatic (though not all at the same time…). I loved the passionate intensity of Jonas, Elle's soul-mate, but also the humour and solidity of Elle's husband Peter, a solidity that she believes she needs in her life. Elle's mother Wallace is a joy, her sister Anna is bitingly funny and Elle herself is suitably complicated. Best of all, they are all believable. The setting is an appropriate backdrop to the emotional drama and the author combines darkness and humour effectively to make the novel both thought-provoking and also a compelling read. Highly recommended (but beware of issues of abuse).
One of the Girls by Lucy Clarke ****
Six young women, one hen weekend in Greece and one mysterious narrator dropping interesting nuggets suggesting the darkness about to unfold…
Early on, six viewpoints are rather a lot to absorb and it's easy to get the characters muddled up (at least it was for me) but a little perseverance and they soon emerge as six very different characters, each with an unexpected agenda. All the characters are well-drawn and every woman has her flaws as well as her strengths, making them believable and empathic, although there were one or two I found it impossible to warm to.
From the start, we begin to suspect that a) every woman has something to hide and b) something is going to go horribly wrong during this hen weekend. These two factors give the narrative pace and great page-turnability. Add to this a stunning backdrop of a Greek island complete with a feast for the senses and relationships in jeopardy and this novel becomes one of the most gripping I've read for a long time.
Full of twists and surprises, this is another excellent and fully satisfying read from Lucy Clarke.
Still Life by Sarah Winman ****
A love letter to Florence, this certainly is… I was in Italy when I read it, and maybe this was why the descriptions of a Florence in the 1940s, then the 1960s, 70's, 80s then back to the 1920s were so magical. Reading about that city before the hordes of tourists made it what it is today, is enough reason to read this book. But there are more reasons…
The story centres around two characters who meet in Florence in 1944. Ulysses Temper is a young soldier, Evelyn Skinner, a late-middle-aged something teacher, art critic, intellectual and Bohemian. The meeting has a profound effect on them both. Ulysses returns to London at the end of the war, to his much-loved and charismatic wife Peg (who now wants to divorce him but who will always remain in his life) and his pals, Col, the loud-mouthed pub landlord, Cressy the wise eccentric, Pete, the emotional song-writer and pianist, and Claude, the genius parrot. It is an interesting group… The dialogue between them leaps off the page with wit, life and authenticity; they are loud, loyal, kind and hilarious. But what will Ulysses do next? It turns out that he is born to be a traveller, just as his name suggests.
Evelyn meanwhile, continues her life and love of Florence, art and beautiful women. She has an equally fascinating cast of friends, including E.M. Forster, the artist Dotty, the tight-lipped Margaret and the poet, Constance Everly.
Will they or won't they meet again? Still Life is exactly that: a portrait of the small – and big – and often everyday things that make up our lives. And it is a love story of course. A little on the long side. But beautifully written and highly recommended – whether you happen to be in Italy, or not.
My next book, The Forever Garden is finished and awaiting publication – hurrah. So, what have I been up to? Well, planning and researching the next one, of course…
The story doesn't have a name yet, and it exists only in my head and in a working synopsis, but I know that it is to be set in West Dorset and Liguria, so it was to Liguria on the Italian Riviera that we headed for my research trip a few weeks ago.
We flew to Pisa and then travelled by train to Rapallo, a good base for visiting a few places that will feature in the book, including a small village called Zoagli and the magical Portofino. You can see me with my notebook (I filled two exercise books with scribbles during the trip) with just one of the amazing views behind me. My characters will be going to Portofino by boat, so that's exactly what I did…
We then trained it to Camogli, a nearby village where one of my characters (Bruno) will live. I had a few days to find 'his house' – overlooking the harbour naturally – and to find a few spots that mean a lot to him, including the fascinating Maritime Museum.
After a break in Sestri Levante and the gorgeous Bay of Silence, we made our way by rail and bus to Lerici, where more of the action of the novel will take place, and took a bus from there to Tellaro in the romantic Bay of Poets.
I have loved Tellaro since I first laid eyes on the little hamlet and it was just as magical as the first time I saw it, with the impossibly beautiful pink and red houses, the dusky church, the glittering sapphire sea. Tellaro will be the setting for much of the story, and so I needed to find venues for various scenes, including the silversmith's workshop and lodgings, Josephine's caffé, the slipway where Nico first arrives in Tellaro and much more besides.
We took 500 photos. What with these and the notes… There must be a book in there somewhere – now all I have to do is write it 🙂
It was a warm week at the finca el cerillo this July – but there's always plenty of shady places to write or relax in and then there's the pool with its stunning mountain views…
In the mornings we did writing exercises taking a different topic each day from 'The Suitcase' to 'The First Date' and blended this with work on autobiography (using favourite smells from childhood to trigger memories of a place and a person) flash fiction, novel beginnings, sensory overload and character development. Some writers used these exercises to develop work already in progress and some writers got started on a new idea.
After this there were 1 to 1s where we were able to chat individually about… anything and then a leisurely lunch. The afternoons were free for individual writing/ chilling/ swimming/ reading.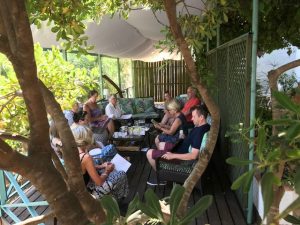 Late afternoon we met up for our group workshop on the shady 'Palm Deck' (with a gin and tonic in some cases) and listened to each other's work with our constructive and encouraging hats on. Most people said they had written much more than they had expected to during the week. And from the feedback comments at the end, I think everyone had a good time.
Steph kindly organised an optional meditation session one afternoon with some useful 'brain tips' to help us feel more in charge of ourselves… And Keeley encouraged us to learn a bit of basic Spanish which came in handy when organising drinks when we visited local restaurants for dinners out.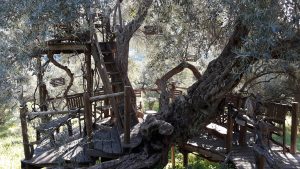 First thing in the morning a few of us did the traditional walk around the olive grove which takes in some glorious mountain views and the sight of Gordon's treehouse constructed in an ancient olive tree.
In the evenings we had Elaine's quiz, Richard's music quiz, Gordon's Desert Island Discs and the infamous hat game (not at all competitive and lots of FUN… 😊) And one night there was music and dancing in the square in Canillas.
We played writing consequences too and wrote limericks for the last workshop session, which wasn't easy but was good practice and a lot of laughs.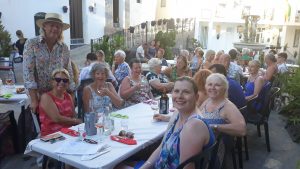 Our next Writing Holiday is March 2023 which is already fully booked but I will be opening up bookings for June 2023 very soon. Watch this space or email me for further information!