It's raining and it feels like we are still waiting for spring, so maybe some reading might help? Take your pick from this fabulous line up… 🙂 
The Island of Missing Trees by Elif Shafak ****
This book felt to me like a complete experience, and an immensely satisfying one.
The story is written with a dual timeline narrative; it is set in the 1970s during the Civil War in Cyprus and later in present day UK. The historical love story is between Kostas, a Greek Cypriot, and Defne, a Turkish Cypriot, a couple ultimately forced to leave Cyprus because of their love for one another in this climate of prejudice and unrest. But there are twist and turns to this love story. The 1970s in Cyprus were years of pain, suffering and hardship and the author doesn't hold back on portraying the harsh realities of war. Moreover, it is a suffering that can remain a legacy for the younger generation, we learn, as their daughter Ada deals with her own trauma decades later.
The relationships are interesting, complex and cleverly drawn – between lovers, between sisters, between Ada and her Aunt Miriam – who turns up in England and who provides the link between the past events and the current narrative.
The author skips viewpoints – taking on most perspectives, at least where there is an emotion or fact to be explored, including the viewpoint of a fig tree, albeit a very special fig tree, which grew in war-time Cyprus, was smuggled to the UK as a cutting and which ultimately survives the harsher UK climate although it has to be buried during the winter to do so. This fig tree, which has experienced so much, takes on the role of omniscient narrator and provides much of the rich detail of the book, including a host of fascinating facts about the natural world.
Although the book explores mainly the experiences and emotions of one family, the author also offers an entire tapestry of lives lived in two different timeframes. Can pain and suffering be somehow passed on genetically to future generations? This is just one of the thought-provoking ideas that emerge from this complex and original narrative. Highly recommended.
Songbirds by Christy Lefteri ****
Also set in Cyprus, Lefteri sets out to highlight the invisibility of Nisha, a domestic worker (of which there are many) from Sri Lanka, who has been forced by poverty to leave her family and move abroad in order to care for someone else's, so that she will be able to send money home.
The narrators are Yiannis, her secret lover and Petra, her employer, and the story begins when Nisha has disappeared. But where has she gone? Yiannis fears that he has frightened her into running away, but Petra quickly realises that Nisha would not have left without her few precious personal possessions and without saying goodbye to Petra's teenage daughter Aliki, who she has cared for since she was a baby.
Through Yiannis's and Petra's recollections, we learn about Nisha and her life, which makes her visible at last. The more questions Petra asks of people around her, the more she realises how little she knew of her employee, and how little she cared. Petra has been swamped by grief since losing her husband and has allowed this grief to form a barrier between her and her daughter; Nisha meanwhile, has taken over the role of motherhood while being unable to be a present mother to her own daughter.
Yiannis has been drawn into the illegal poaching of songbirds in order to make money and now finds it hard to extricate himself. He realises that he has not been the man Nisha thought him to be. But is it too late to change? And what has happened to Nisha? Slowly, the book reveals all. Unsettling and thought-provoking, but beautifully written. Highly recommended.
The Secret Smile by Nicci French ****
Nicci French has long been one of my favourite authors (or I should say author partnerships) and I found myself re-reading 'The Secret Smile' this spring. It is slightly dated, yes, but as Erin Kelly points out in her introduction, it provides a master-class in how to write a psychological thriller.
Miranda is the viewpoint character throughout. She is a painter and decorator and she works for her Uncle Bill; clearly, she is an independent and intelligent young woman. But when she meets Brendan – an apparently charming, attractive and lovely man – things start to unravel. For starters, Miranda only wants a casual fling, but for Brendan the relationship is something else entirely…
Most of the book is about how Brendan gets his revenge after Miranda dumps him and it is chilling stuff. The narrative becomes more and more disturbing and Miranda's frustration when no one believes her, grows into something darker too – she even starts doubting her own sanity. Will she find a way of getting rid of ghastly Brendan or will he destroy her? This is the question that hums silently through the book. The tension is unrelenting, the book is impossible to put down and the ending is as satisfying as it gets. There you go. Nicci French has done it again. Highly recommended.
The Family Remains by Lisa Jewell **** (My book of the Season by a very narrow margin…)
This book is a sequel to 'The Family Upstairs' but can be read as a stand-alone. In the beginning, it is a challenge to remember who is who in the cast of characters, but once you get it, you will be hooked immediately into a brilliant and twisty story. Be warned – this book is very hard to put down.
Henry and Lucy Lamb and Phineas Thomsen were brought up in a 'house of horrors' in Chelsea where the Lamb family were conned and abused by Phin's father David and his lover, a musician called Birdie. When the story opens, Henry and Lucy and Lucy's daughter Libby have inherited the Lamb estate and their money problems are apparently over. But Henry and Lucy are living incognito and when Birdie's bones are found dumped in a river, they fear discovery. The three are keen to locate Phin, who is Libby's father and the object of Henry's obsession and their search takes them to Chicago.
Meanwhile Rachel, the wife of Lucy's first husband Michael Rimmer, is informed of his death and a fascinating sub-plot develops, which finally connects to the main drama in a very satisfactory way. Who killed Birdie? Will Phin be found? Can the characters recover from the abuse they have suffered and move on? This is LJ at the height of her powers. A must-read.
The Editor's Wife by Claire Chambers ***
The story is narrated by Christopher Flinders, once an aspiring novelist, but now living in rural Yorkshire. When he is approached by a young academic researching into the life of the editor Owen Goddard, who believes there is a connection between them, he initially tries to fob her off. But her visit prompts him to re-visit his past and his relationship with Owen and his charming wife Diana.
Chris is also struggling with his relationship with his brother Gerald, who for reasons of his own, is trying to prevent the sale of the family home following the death of their parents.
The story shifts between these two sets of narrative time. When Chris's ex-wife Carol pays him a surprise visit, Gerald also appears unexpectedly and then the academic turns up to collect a manuscript from Chris that will reveal all, the pace quickens as the present collides with the past. But what will happen next and will Chris be able to move on from the disastrous error of judgement he made as a young man?
As ever, Chambers writes with attention to the minutiae of life and she takes us on this journey with wit and ease. I always enjoy this author's writing. In my opinion, this isn't her best, but nevertheless it is an enjoyable read.
The Shell House Detective Agency by Emylia Hall ****
In this engaging story set in Cornwall by the sea, we meet neighbours Ally and Jayden, who team up together to solve the conundrum of newcomer and neighbour Helena Hunter's mysterious disappearance. Since Ally's husband Bill, a police sergeant, died, Ally has been lonely, missing Bill's companionship and love but also missing the cases he worked on and the discussions they used to have. Jayden, new to the area, also used to be in the police force, but left, following the fatal stabbing of his work partner Kieran.
What has happened to Helena Hunter? And was Lewis Pascoe – discovered badly injured at the bottom of the cliff on the same morning as Helena was last seen – involved? Did Lewis fall? Did he jump? Or was he pushed? And what – if anything – does this have to do with Helena?
The sleuthing pair are aided and abetted by a cast of characters including surf-girl Saffron who runs the local café, Tim Mullins a PC capable of much more than first appears, and Gus, a recent divorcee who is trying to write a novel.
The story is warm and engaging, the characters are well-drawn and the plot keeps the reader guessing. But the star of the show for me is Cornwall itself. Emylia Hall catches the beauty and magic of the landscape on every page. Highly recommended.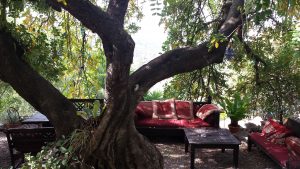 Every time we visit the glorious Finca el Cerrillo we have an amazing week… Different groups bring different experiences and since we always tackle different writing topics, no week is ever the same.
This week the weather was on our side. Warm sunny days meant that we were able to have lunch outside on the terrace and our afternoon feedback session siting on the 'Palm Deck.' On our day off midweek, several of us walked the short distance to the nearest village of Archez for lunch; others tried a more challenging walk and a few of the group stayed at the finca to write and make the most of some me-time.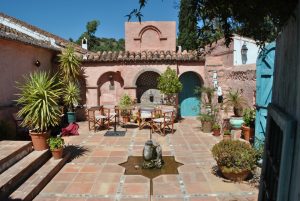 In the morning sessions we covered the writing of flash fiction and short stories (good practice for the tandem story later in the week), sensory overload (taking in autobiography and descriptive writing),  the significance of objects and bringing variations into our writing. We also looked at novel beginnings using books plucked at random from the finca's library.
Patricia was kind enough to provide a stimulating watercolour for beginners activity one afternoon and Elaine organised a fun evening quiz. We had music and dancing for Louise's birthday and a hilarious singalong run by Rosemary. On the final night Gordon did his usual 'desert island discs' night.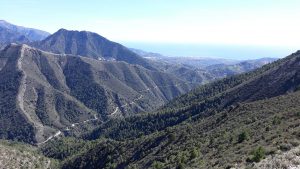 This was another special group with writers of all genres and experiences; everyone combining into a dynamic whole in order to make the week an entertaining and fulfilling one. Yes, it was definitely a writing holiday to remember…
The Image of Her by Sonia Velton ****
Stella and Connie have never met and never will. So why is Stella stalking Connie's every move on social media?
These two characters share the narration of this novel. We learn about Connie's life in Dubai with Mark and their two children. Connie is living the ex-pat lifestyle but with some guilt and when she learns how badly some of the local women are being treated by their 'madams' she is determined to try to help. Meanwhile there are rifts appearing in her marriage – she and Mark seems to be drifting apart.
Stella is suffering from a past trauma. We know she had to care for a narcissistic mother with dementia, and we know she lives for the delivery and returns of goods she orders online but never keeps. We know she is damaged… But the rest of her complex story unfolds gradually as the novel progresses. There is an underlying mystery at the core, which is both cleverly constructed and ultimately satisfying.
This book is beautifully written and the story had me gripped right through to the poignant ending. Highly recommended.
French Braid by Anne Tyler ***
In French Braid, Anne Tyler introduces us to Serena and her boyfriend James having a conversation (almost an argument) about the lack of closeness in Serena's family. Tyler then moves seamlessly back in time to when Serena's mother Lily, her sister Alice and her brother David were young children. Most of this is in the viewpoint of Mercy, Serena's grandmother.
As her children grow older, Mercy decides to spend more time in her art studio and away from her husband Robin. In fact, she intends to move into the studio entirely, because she wants to be free to do whatever she likes whenever she likes, although the fact that she no longer lives at home is never mentioned by her family.
This is a family saga written as only Tyler can write it; it is by turns fascinating, thought-provoking and profound. Sometimes it feels as if the story is going nowhere – but that's because it's a slice of life rather than a story and that's how life is…
Reputation by Sarah Vaughan ***
Emma Webster is a hard-working politician who holds various causes close to her heart, for example, the issue of revenge porn. Her marriage to David was, we learn, a casualty of her ambition and her career and he is now married to their daughter Flora's piano teacher Caroline, who was also a friend of Emma's. Most of the time Flora lives with David and Caroline, though she also stays with Emma, and the relationships between all of them seem amicable enough.
However, things swiftly begin to unravel for Emma. She is threated by one of her constituents and she is viciously trolled on social media. She makes an error of judgement with a journalist she trusted, Mike Stokes, and that is only the start.
Things are also unravelling for Flora. She is being bullied at school, until, in retaliation, she too makes an error in judgement which backfires for both her and Emma.
Most of the book is concerned with the resulting court case. Emma is on trial for murder and we gradually learn what happened on the night in question, as witnesses emerge and more information is revealed.
Will she be convicted or will she be found not guilty? What really happened and who sent the message that led to someone's death? These are the questions that kept this reader interested and gripped, although at times the court case felt rather long and drawn out and the final denouement was hard to believe. However, this was still an enjoyable read.
Saving Missy by Beth Morrey ****
Missy (Millicent) Carmichael is 79, lives in Stoke Newington, London and is very lonely. Her children have left home – her son Alastair who she adores, has moved to Australia with his wife and son, and she is estranged from her daughter after a big row. She misses Leo, her husband, and she is still living in their large family home by herself. She knows that she needs to get out and about and she needs to do something to tell her son about in order to justify an email, and so she goes to the park nearby. Here she meets Sylvie and Angela and her son Otis, who reminds Missy of young Arthur, her grandson. Little does she know that these women are going to change her life for the better. She suddenly has friends, and a reason to leave the house. She even agrees to look after a dog and finds herself a job in the library. Missy's life becomes full and busy.
The story is told in first person (Missy's perspective) and this was highly enjoyable as she has a dry and cutting sense of humour. I'm not generally a fan of 'uplifting fiction' (not sure what that says about me) but the characterisations here lifted the book into a humorous, observant and thought-provoking read. There is also sadness and poignancy though as Missy reflects and remembers events from her life, but yes, the book is uplifting too…
This all makes for an emotional and highly enjoyable read. My Book of the Season and not chilling at all…
My Darling Daughter by JP Delaney **
Fifteen years ago, Susie Jukes gave a baby up for adoption – although later we discover that the situation was more complicated than that. Since then, however, Susie has turned her life around and she now has a music career, and is happily married to Gabe, a successful musician, who lost his own daughter Leah to leukaemia some years earlier. The one thing that would make their life complete would be to have a child together, but after several miscarriages, this still hasn't happened for them.
Out of the blue, Susie's daughter contacts her on social media. Now called Anna (rather than Sky – the name Susie gave her) she asks to meet. She tells Susie that she is unhappy with her adoptive parents and Susie and Gabe feel compelled to help her.
However, in Delaney's books, things are rarely what they first seem, and so it is with Anna/Sky. The story is told in short punchy chapters through the viewpoints of Susie, Gabe and Anna/Sky respectively. These very short chapters do drive the story forward well but their brevity sometimes gives the reader no chance to get involved with the viewpoint character and this for me was a disappointment. There is no doubt that this is a twisty – and often unsettling – read and it is thought-provoking too on the subjects of adoption and abuse. But… although I am a huge fan of JPD, this was not one of my favourites.
The Whalebone Theatre by Joanna Quinn ***
An epic story set mostly in Dorset and France. The action begins in 1920 as three year-old Christabel is about to be presented with a 'new mother' her stepmother Rosalind. Unfortunately, her father Jasper cannot get over the death of his first and beloved wife and Rosalind doesn't much like children, so Christabel is left to her own  devices which include having exciting adventures and wishing for a brother. The author whisks us confidently through these years of Christabel's growing up, moving seamlessly between the perspectives of Jasper, Rosalind, Jasper's brother Willoughby, Christabel, her sister Flossie and others besides. Christabel gets her brother and as they all grow up, we enter the war years and the story focuses on this and continues until the war is over.
The children's upbringing is unusual, to say the least. When they construct their 'whalebone theatre' from a beached whale, the title of the book starts making sense. All three children are highly imaginative and the theatre is important to them, not just because it takes them away from reality. In the book we meet many other eccentric characters, including Taras the Russian artist and his 'savage' children and a whole host of party-loving Londoners.  But ultimately, this is Christabel's story; a story of love, loss and of people who are different and who don't fit in.
The adult characters are all flawed and believable, the research is excellent, the author's style is fresh and innovative and I enjoyed reading the book very much.