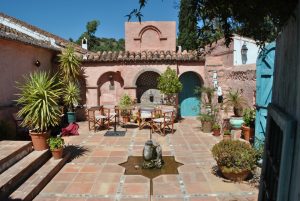 It was bliss to be back in Andalusia at the Finca el Cerrillo for the first time in two years. There were sixteen of us in all (two people brought their partners which is always rather nice and adds to the social mix). And it was busy…
For the first time ever we had no less than five published writers in the group… This may sound daunting to an inexperienced writer who is thinking about coming along, but believe me, the reality is nothing of the kind. Others would class themselves as 'beginner writers', we are all readers and the combination works as long as the morning exercises can be used beneficially by all. Everyone helped everyone else – this was an incredibly supportive and inclusive group.
The favourite 'morning exercise' was probably the one we did to explore dialogue-writing in pairs. We began by creating characters from pictures, continued with some guided writing to get to know them better and then found their voices in a shared script that was passed to and fro within each pair. The results were funny, thought-provoking and sometimes unexpected (in a good way…)
We also had a productive discussion about publishers, agents and submitting work in which we were able to call upon the differing experiences of our group. The publishing world is very fast-moving and it's important to keep up to date with developments and opportunities.
The late afternoon workshops featured readings from poems to novel extracts to writing developed from one of our morning exercises. As ever, there was a great variety with plenty of constructive feedback from the rest of the group.  We also divided into groups for a précis task which was a bit like consequences but with the aim being to précis the previous writing rather than continue the story. The results were hilarious.
The food was better than ever, the hospitality second to none. Only the weather let us down (first time ever) but even the calima (sandstorm) provided an er… interesting experience.
The final night of 'Desert Island Discs' finished off another fabulous fun and productive week at the Finca el Cerrillo. Roll on July… (And for more information check out my previous post 'February at the Finca' and the Trip Advisor site below)