This summer and autumn I've been exploring some walled gardens in Dorset, Somerset and Devon on my next research trail…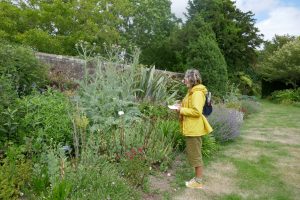 As usual, the book that I'm currently planning will be set in West Dorset and somewhere abroad, because I love to write about the West Country of the UK and I also love to travel and explore other cultures too. For the 'abroad' bit I've chosen Italy once again – yes, I know – but this time I plan to visit Puglia in the south, somewhere I've never been. Hopefully I'll be going there next May and if I do, pandemic permitting, I'll post some research pics on this blog soon after.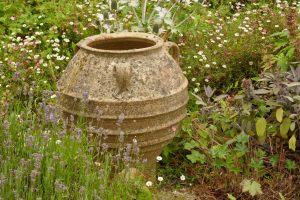 The West Dorset element of the next book is going to feature a walled garden – not just any old garden but an Arts & Crafts Walled garden as in the style of Gertrude Jekyll who pioneered the movement.
It was a reaction against Victorian neatness and order and so it features cascades of flowers planted in deep unruly beds, which is much more my sort of garden.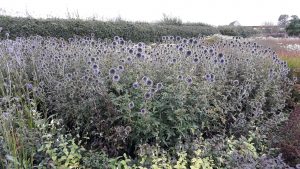 Rather than rows of bright annuals, the Arts & Crafts Garden tends to prefer the romantic cottage garden plants, wild flowers and perennials, such as lavender, hollyhocks, catmint and lupins, with lots of scented roses and herbs.
Structurally, the gardens are interesting because they often feature 'rooms' of planting, with one room leading into another by way of an archway cut into a yew hedge for example, or a wooden gate. There might be a 'thinking garden' for example – a place for reflection and writing – or a 'hot garden' with lots of flame coloured plants. Nice…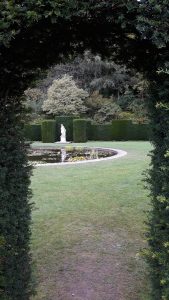 Ideally, the garden should harmonise and echo the house itself. William Morris's famous 'The Red House' is an example of this.
It turns out that there are quite a few interesting walled gardens near where I live, mostly looked after by the inspirational National Trust, and it's been fascinating to wander around them, take lots of photos and think about the garden I'm going to create in the book.
Gardening is both creative and healing.
The Arts & Crafts gardens were often walled and this was my starting point for the book. There's something about a walled garden – it can be a place of secrecy, of entrapment, and of escape perhaps… Lots of ideas and time to get planning!