Rosanna Ley writes emotional drama. Her latest novel The Forever Garden is published by Quercus Books March 2023 (HB and Kindle) and August 2023 (PB)
THE FOREVER GARDEN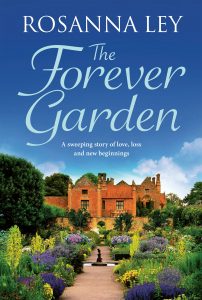 A story of love, loss and family secrets set in Dorset and southern Italy.
Amid the sun-soaked hills of southern Italy lies the Romano family olive grove, where Lara lives with her daughter Rose and her granddaughter Bea.
Lara has spent a lifetime trying to forget the traumatic events that led to her desperate escape from Dorset seventy years ago. But when she sees Bea – a passionate horticulturalist most at home in nature – being swept off her feet by Matteo, a handsome and charismatic restaurateur, Lara fears her granddaughter is in danger of making the same mistake as Lara did all those years ago.
Remembering a promise she once made, Lara asks Bea to travel to Dorset to restore her family's long-lost garden. Bea is torn. She would love to find out more about the mystery of her beloved grandmother's past. But if she leaves Italy, will Matteo wait for her? And when she arrives at the house in Dorset – what will she find?
Meanwhile back in Italy, an old flame from Rose's past reappears, threatening to expose a secret that could tear the heart out of the Romano family for good.
Praise for Rosanna Ley
'Wonderfully descriptive and beautifully crafted' (Heat)
'The ultimate feel-good read' (Candis)
'A great page-turner' (Lucinda Riley)
'The perfect holiday read' (Rachel Hore)
'Beautiful evocative writing' (Sun)
'Impeccably researched and deftly written' (Kathryn Hughes)
'Romantic, escapist and mouth-watering… everything you could wish for in a summer read' (Veronica Henry)
'A perfect holiday read, to be devoured in one sitting' (The Lady)
'Completely beguiling and beautifully told' (Kate Furnivall)
'A gorgeous, mouth-watering dream of a holiday read!' (Red)
---
Rosanna is the best-selling author of The Forever Garden, The Orange Grove, From Venice with Love, The Lemon Tree Hotel, Her Mother's Secret, The Little Theatre by the Sea, Last Dance in Havana, The Saffron Trail, Return to Mandalay, Bay of Secrets and The Villa, all published by Quercus.
---