Rosanna Ley writes emotional drama. Her latest novel The Orange Grove is published by Quercus Books March 2021 (HB) and June 2021 (PB)
THE ORANGE GROVE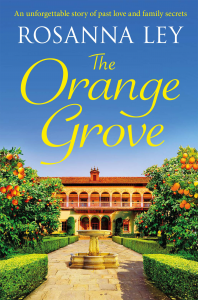 Holly loves making marmalade. Now she has a chance to leave her stressful city job and pursue her dream – of returning to the Dorset landscape of her childhood to open Bitter Orange, a shop celebrating the fruit that first inspired her.
Holly's mother Ella has always loved Seville. So why is she reluctant to go back there with Holly to source products for the shop? What is she frightened of – and does it have anything to do with the old Spanish recipe for Seville orange and almond cake that Ella keeps hidden from her family?
In Seville, where she was once forced to make the hardest decision of her life, Ella must finally face up to the past, while Holly meets someone who poses a threat to all her plans.
Seville is a city full of sunshine and oranges. But it can also be bittersweet. Will love survive the secrets of the orange grove?
Praise for Rosanna Ley
'Wonderfully descriptive and beautifully crafted' (Heat)
'The ultimate feel-good read' (Candis)
'A great page-turner' (Lucinda Riley)
'The perfect holiday read' (Rachel Hore)
'Beautiful evocative writing' (Sun)
'Impeccably researched and deftly written' (Kathryn Hughes)
'Romantic, escapist and mouth-watering… everything you could wish for in a summer read' (Veronica Henry)
'A perfect holiday read, to be devoured in one sitting' (The Lady)
'Completely beguiling and beautifully told' (Kate Furnivall)
'A gorgeous, mouth-watering dream of a holiday read!' (Red)
---
Rosanna is the best-selling author of From Venice with Love, The Lemon Tree Hotel, Her Mother's Secret, The Little Theatre by the Sea, Last Dance in Havana, The Saffron Trail, Return to Mandalay, Bay of Secrets and The Villa, all published by Quercus.
---