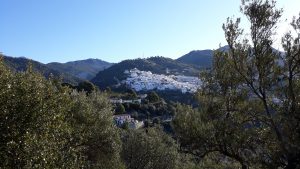 This February 2020 I took a writing group to the finca el cerrillo situated in the mountains of Andalucía near the small and unspoilt village of Canillas de Albaida. We've held a writing holiday here every year in early July for the past eleven years, but this was the first time we've visited in February. And it was fabulous…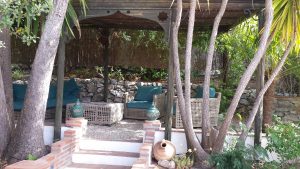 The finca hotel – once an olive mill – is run by Gordon and Sue Kind who have carefully retained its original character whilst creating a quirky but luxurious boutique hotel in gardens set within an olive grove and planted with palm trees, carob, hibiscus and jasmine, so that intoxicating scents follow you as you walk down the meandering paths and terraces.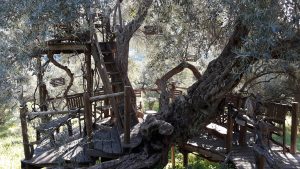 There is a white air-conditioned studio/ workroom, outside courtyards and terraces with plenty of sunny and shady chill-out areas, an indoor salon for dining in the chillier months and an outside pool for the warmer ones. There is even a two-storey tree house created by Gordon in the branches of an ancient olive tree, complete with chairs, tables, candles and fairy lights.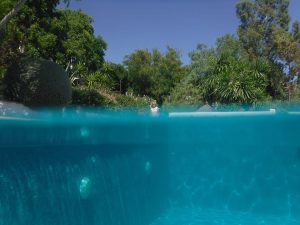 What I love most about this special place is the air of tranquillity. It embraces you the moment you arrive and then you just sink deeper and deeper into the peaceful vibe. It's magical.
In our morning writing sessions, we do various writing exercises, including visualisations and freewriting, focusing on a theme and practising a writing technique (for example getting to grips with viewpoint/ structure/ plotting / imagery or whatever it might be that day). My aim is to provide a springboard for ideas that can either be used to create new writing or develop an existing work in progress.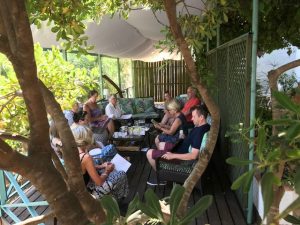 I will also read a piece of work and offer 1 to 1 sessions during the week to discuss this. The rest of the day is free for participants to write (or relax!) until the late afternoon when we have a group 'reading of writing' workshop.
And it's not all about the work… The food at the finca el cerrillo is superb; we go out to nearby restaurants on three evenings for a change of scenery and there is a day off during the week when Sue can arrange a day out to Malaga old-town or Nerja on the coast, for example.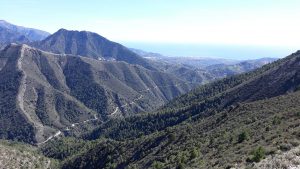 This week, Sue and Gordon took a small group of us on an easy-going mountain hike on the old Silk Route, which was just brilliant. And the evenings were great fun, especially the final 'Desert Island Discs' night…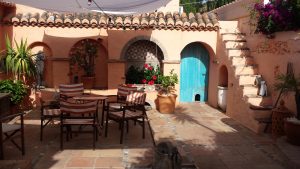 This week's group quickly settled into life at the finca and soon formed a supportive, sharing and trusting group. The writing ranged from autobiographical memoir to historical romance, taking in plenty of emotional drama and humour along the way. Some writers were more experienced than others but everyone seemed to find ways of adapting the writing exercises to progress their own writing project. It was wonderful to witness this and I loved listening to their words.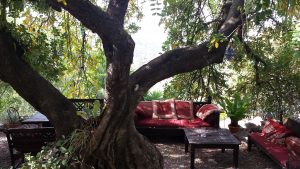 As someone said – 'what a week…' The writing was powerful and lots of emotions were coming to the surface – but definitely in a good way. There was plenty of laughter and also some tears. I so enjoyed working with this very special group and hope that they will all return to the finca on another writing holiday very soon.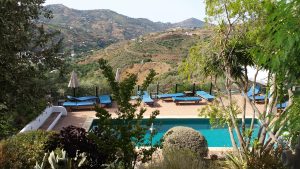 These are the dates for our next writing holidays:
6th – 13th July 2020
27th February – 6th March 2021
Check it out…
https://www.tripadvisor.co.uk/Hotel_Review-g1078241-d674670-Reviews-Finca_el_Cerrillo-Canillas_de_Albaida_Province_of_Malaga_Andalucia.html
Some comments from the February 2020 writing group
'What an incredible week – we all learned a huge amount, and had such a lot of fun as well.' 
'I couldn't believe the finca would be as beautiful as the website portrayed, but it was even more so.' 
'Can't believe it's over. Feel slightly bereft.' 
'Such a special week with amazing people.' 
'The best week I have experienced in my writing life – the beautiful finca and the surrounding villages and towns, the amazing workshops and learning opportunities, and one of the warmest, friendliest, most generous groups of humans I have had the privilege of working and playing with. Just brilliant.' 
'How amazing is it that we arrived as strangers and left as friends?' 
'What's really special about the retreat is that the environment and the group leadership mean you can leave all your other hats at the door and just be a writer for one week. I know my skills came on in leaps and bounds and I achieved far more than I set out to.' 
'It's restored an impetus and confidence I needed that was lacking after a really difficult few months. I would love to go back.' 
'The February Writing Week at Finca el Cerrillo was a perfect balance for me. Inspiring morning workshops were directly relevant to my WIP and the afternoons offered enough dedicated time to write while the early evening feedback sessions, with a great group of supportive co-writers, helped build confidence and the whole programme formed the basis of really enjoyable relaxing evenings! Rosanna is an excellent teacher/coach/motivator and I found her one-to-one sessions exceptionally useful. We all admired how much hard work and dedication she gave to making the week a great success as well as great fun. The location was lovely, wonderful friendly hosts and superb food. Wish I was still there! ' 
Email me for more details…