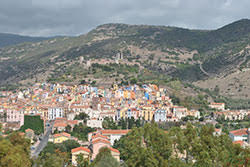 On this dull day in May, I'm thinking about Sardinia and looking forward to the paperback publication of Little Theatre by the Sea…..
Drum roll……. On June 1st I can't wait to see the book with its luscious cover (thank you, QuercusBooks) in bookshops and supermarkets. I'll be the one seen having a quick hug – with the book that is.
So, when I think about Sardinia where Little Theatre is mostly set – with a smattering of West Dorset of course, my home these days – I think about the warmth, the translucent sea in the secret little coves, and the delicious food. I want to go there – now!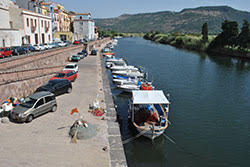 And I think about Bosa. Bosa lies on the rugged west coast of the island of Sardinia and was the main inspiration for my fictional town of Deriu. It was founded by the Phoenicians, so it's historic and also pretty, with mediaeval cobbled streets to wander, gorgeous pastel-painted houses on the river-bank and a colourful market. Bosa's artisan traditions of gold-filigree jewellery and lace-making can still be seen – women sitting outside their houses doing embroidery and gold filigree jewellery being sold in the market.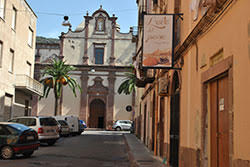 And there's more – you can walk through olive groves and blue jasmine up the winding stone steps to the Castello dei Malaspino, which offers spectacular views of the church of San Pietro, the Temo river valley and the red roofs of the Sa Costa quarter. Restoration in the 1970s has brought to light the most stunning cycle of Catalan school frescoes within the small fourteenth century Nostra Signora di Regnos Altos chapel. These frescoes are unexpected, vivid and truly beautiful to behold.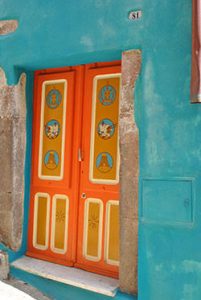 It's also worth visiting the fascinating Casa Deriu for a touch of 1920s faded glamour, the marina to watch the boats come in, and of course one of the wonderful restaurants to be found in the town…
If you read Little Theatre by the Sea, I hope that you'll be inspired to visit Sardinia, and especially the little town of Bosa. If you do, please give Bosa a hug from me.