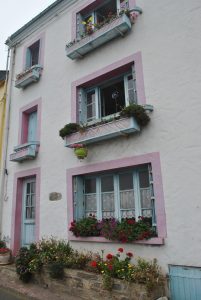 I've been drawn back into the research trip I made to Belle-ile-en-mer, Brittany, France, for 'Her Mother's Secret' by a Kindle promotion running for the month of January 2021. See here: https://amzn.to/3sgi62Y
So I thought I'd share a few of my favourite pictures…
This house overlooking the harbour in Sauzon was the inspiration for Thea's home and flower shop.
Colette has not been back to Sauzon for years and when she finally returns, it is the trigger for an emotional journey in more ways than one.
The island is full of quirky houses, wild moors and gorgeous sandy beaches.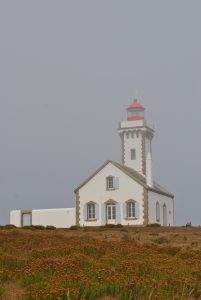 This atmospheric lighthouse can be seen for miles. It's on the wild moorland by the rocky beaches and gave me the idea for the Old Lighthouse where Élodie lives and creates her driftwood sculptures, having collected the wood from the rocky bays nearby her home.
There's so much to see in Belle-ile-en-mer. Here are some goats spotted on Donnant beach!
And some beautiful sunflowers…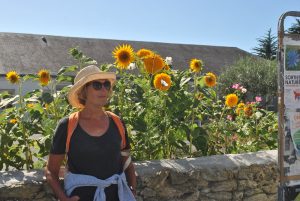 Belle-ile was the place that Claude Monet fell in love with when he painted the rocks at Port-Coton. "I am in a wonderfully wild region, with terrifying rocks and a sea of unbelievable colours; I am truly thrilled, even though it is difficult, because I had got used to painting the Channel, and I knew how to go about it, but the Atlantic Ocean is quite different." (Letter from Monet to Gustave Caillebotte).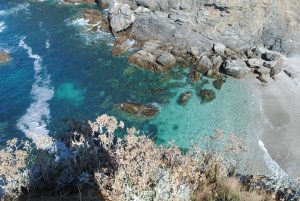 It was also home to Sarah Bernhardt for many years. It's the kind of place you can fall in love with (or the kind of place where you can fall in love).
When this pandemic is over and we're all able to travel again, I hope to go back there one day and re-visit all the haunts that I wrote about in 'Her Mother's Secret'. Until then, if you want, you can visit for just 99p 😉 https://amzn.to/3sgi62Y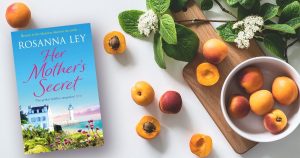 It's winter, traditionally a time for hunkering down and getting involved in a new world. I usually start a new book around October, so by now, most of the planning and some of the research should be done and I'm starting to hear the characters' voices. It's time to begin.
It's never easy to begin though. That scary white page, that blank screen… There are so many possibilities and it seems so important to get it right. It isn't though. The important thing is to start – and then once it's on the page you can fix it (thanks to Ian Rankin for that quote).
Many writers say they're finding it hard to write during this global pandemic – understandable; so many of us are suffering from anxiety and many more have loved ones who have been ill or even lost to the disease; how can we hope to focus on anything else while all this is going on?
We are though in a privileged position. Not only can we escape to another world through reading, which isn't just a distraction nor just a pleasure; to many of us it's a lifeline. But as authors, we can also take time out from these challenging days to create our own world. We can create our own characters (who may or may not be in difficult or traumatic situations – that's our choice) and we can create their setting, their backgrounds, their problems and their joys.
Writing… It's fun, it's a distraction, it's a way of being emotionally invested in something you can totally control. How good is that? Forget those well-worn clichés about authors not being in control of their own novels, of characters who 'leap' off the page and dictate the action. What were you – an empty vessel? Nah – as the author, you can make this happen or you can stop it from happening; the choice is yours.
Because when your characters seem to leap off the page – it's because you made them so lifelike in the first place that they had the ability to jump. Yes, you did that. You created three-dimensional, interesting people with real issues that readers could become emotionally invested in. And if those characters seem to direct the action – it's because you got them right in the first place.
That wonderful feeling, when as an author you are in the zone, your pen (or fingers) are flying, your inner censor is strangely silent, your authorly anxieties have gone to sit in another room… That's not your story or your characters taking over, that is you letting go, allowing your imagination and creativity to run free, that is you being an author. Don't let anyone take it away from you. You created this new world, it's now yours to make of it what you will…
It's windy, it's rainy and the clocks have gone back. What does that make you want to do? Yes, READ… So here are some good books you may want to curl up with in front of the fire. 
The Fallen Girls by Kathryn Casey.
Detective Clara Jefferies has spent years running from her childhood in Alber, Utah – with good reason. But when she hears that her younger sister Delilah has disappeared, she knows that she must go back and help find her. When she arrives there however, she faces suspicion and denial and her family refuse to even talk to her. How can Clara break through and discover the dark secrets that lie within this apparently peaceful community?
This polygamous community is an unusual one and some of their traditions are hard to understand. But this adds to the complexity and interest of the story for me. The narrative is told from the points of view of Clara and Delilah, with a sensitive layering of emotions, toughness and vulnerability.
The plot thickens when a body is discovered and at last the community realises that it needs help to prevent further disappearances and further deaths.
The story is fast-paced and original. I really enjoyed it.
Where We Belong by Anstey Harris
Ah… Anstey Harris has followed the wonderful 'Trials and Triumphs of Grace Atherton' with an equally brilliant second novel. Written from the viewpoint of narrator Cate Morris, we discover and explore the losses she has recently suffered – of her job, of her house, of her beloved husband Richard.
Richard was the victim of severe depression and Cate, alongside Richard's best friend Simon, has lived with this for years. But when Richard finally dies under tragic circumstances, Cate finds herself and their son Leo alone, broke and forced to return to Richard's family home, the mansion and fascinating museum of Hatters. There, she encounters the force field that is Araminta, loyal family friend, and the warmth that is Patch, amenable artist and tutor. She forges relationships with them both, but finds that like her, they are both holding closely-guarded secrets.
Cate finds herself compelled to help save the family home that she thought Richard had turned his back on. And slowly, accompanied by plenty of drama and tension, all those intriguing secrets come to light. Exquisite writing and a rich tapestry of ideas and language hold this novel together beautifully and keep you enthralled until the very last page. Very highly recommended.
The Other Son by Nick Alexander
This is the first book by this author I have read. It's written in three viewpoint sections: The Wife (that's Alice), The Son (Tim) and The Other Son (Matt). I liked this structure – we get a good insight into each perspective, and it's a fascinating portrayal of how we come across to others, as compared with what we are feeling inside. Everyone's truth is a different one.
Alice is married to Ken, a violent and unlikeable man and while the reader may (given what she tells us) wonder why on earth why she still is, Alexander does to some degree explain. Alice however is at the point of doubting whether this state of affairs should continue, and when her friend Dot leaves her husband, the matter is brought to the forefront even more. Meanwhile, the first son, Tim, is married to the volatile Natalya, and again, it is interesting to see how Alice's view of her daughter-in-law differs from Natalya's portrayal of their relationship. We also get an insight into Tim and Natalya's marriage and see how Tim feels about his parents too. All interesting stuff…
We then move on to the 'other son' Matt who has been referred to throughout as a bit of a wastrel, off wandering the world somewhere and escaping his responsibilities. Again, things are different when we find out his truth.
I did have some questions at the end though. While I don't need everything tied with a neat bow, the structure of the novel meant that we knew nothing about Tim, Natalya, and Ken's reactions to how the situation has (rather surprisingly) developed. Why is Ken suddenly being so generous? How have Tim and Natalya resolved their differences? And so on. Nevertheless, I enjoyed the novel and would recommend.
My Sister the Serial Killer by Oyinkan Braithwaite
A great title for a novel, this certainly grabs the attention and structurally, the book is refreshing too. It's written from the nicely conversational point of view of Korede in short bite-sized chapters titled with subjects such as: bleach, knife, words; each one a small anecdote in itself, which also serves to progress the story. It's compact in style too.
The story is of Korede's relationship with her sister Ayoola, who has taken to killing the men she gets romantically involved with (a seductive concept in itself 😉). But why does she do this, what can Korede do about it and what happens when Ayoola's potentially destructive attentions fall on Tade, the subject of Korede's own romantic fantasy?
In some ways this is a classic story of two siblings, one beautiful, one ugly, one responsible and sensible, one not; the one looking out for the other. But in other ways it's so much more. Braithwaite touches on thought-provoking subjects here – abuse, how people respond to beauty, the complexity of sibling relationships. The pace is lightning fast, the dialogue sparky and the humour and wit dry and relentless.
The author states in her acknowledgements that she wrote this book quickly and had fun doing it and this shows (in a good way). It's simple and like many simple things it has a light touch which is effective. A bit 'Killing Eve' in style but still very original. Highly recommended.
The Life we Almost Had by Amelia Henley
If you like an emotional and romantic read, this is definitely one for you. The book starts when Adam and Anna's relationship is strained to breaking point. Will their love survive? This question is what will make you want to read on.
I quite liked the description of their first meeting – it was very romantic and after what Anna had been through (being jilted at the altar) it was lovely to see her meeting 'Mr Right'. But sadly as the years together continued, the story takes a darker turn and it seems that their love isn't strong enough for it to survive. Or is it? Personally, I appreciated the exploration of the 'darker issues' (I won't say what they were, in case I spoil things for readers) but I was irritated by the very obvious way in which the author flagged everything that was coming and also by the plot which bordered and definitely tripped right into the very unrealistic… Sadly, I wasn't drawn to either of the two main characters either.
However, the romance content was high and the book has lots of wonderful reviews, so I'm left reminding myself how subjective all this is. If romance is your bag and you don't mind some darker stuff being thrown in to the mix, then this book could blow you away. And good luck to it.
Magpie Lane by Lucy Atkins
I thoroughly enjoyed Lucy Atkins' previous novel 'The Night Visitor' and I was expecting more of the same. I wasn't disappointed. Dee, a nanny in Oxford, is being interviewed by the police about the disappearance of a young girl Felicity who was in her care. During the interview, Dee's viewpoint flashes back over time to tell us the whole story, in pieces, intersected with the continuation of the interview. So, we learn how Dee met Nick Law, Felicity's father and how she came to be hired as the nanny. We learn about her growing relationship with Felicity who is 'selectively mute' due to a trauma following the death of her mother and we learn a lot about 'secret Oxford' – the stories and the architecture, the people who have lived and died there and the graveyards. But how did Felicity disappear and what happened to her? We don't find this out until the very end, even though perhaps we can guess.
I enjoyed the way the book is structured which enables a gradual and fascinating reveal of Dee's past – among other things – and I loved the telling of the relationships: Nick's with his Danish wife Mariah, Dee with Linklater the 'house historian' and all the rest. Dee is quiet and intense but her internal life is rich and nuanced.
The ending was a bit of a disappointment for me and I missed some of the twistiness of Atkins' previous novel but nevertheless the story is detailed and gripping and extremely well-written. She is an author expert at drawing the reader into another world and I love that.