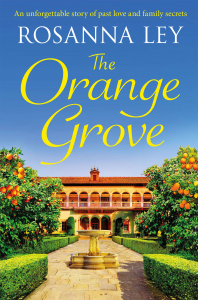 'The Orange Grove' features two of the characters making a very special cake – a Seville Orange and Almond cake. It is made from an old secret family recipe which was handed to Ella when she was attending a family party and flamenco performance in Seville many years before. But for Ella, the cake – and therefore the recipe – has added significance and brings back memories of her time in Seville, which she has tried to push aside.
This special cake is traditionally made at times of celebration. Bitter Seville oranges – not available all year round – give it an evocative bitter-sweet flavour which resonates for Ella with the memories themselves, whilst the ground almonds are deliciously rich and fragrant.
Some readers have asked for the recipe. To start with, I told them that this is a secret family recipe (!) just as it says in the book, but since it is so good, I thought I'd relent and publish it here.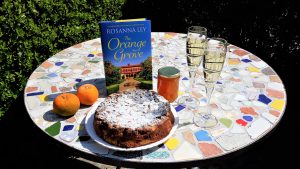 And here's one a friend of mine made earlier!
The cake is best enjoyed – as you can see – with a glass of fizz.
If you make and enjoy the cake, I do hope that you will let me know – and send a photo if possible. Thank you!
Seville Orange and Almond Cake
Ingredients:
2 Seville oranges, about 280 g (10 oz) scrubbed & roughly chopped (with skin)
5 eggs, separated
200 g (7 oz) caster sugar
225 g (8 oz) ground almonds
2 tbsp flaked almonds
Zest of half a lemon
sifted icing sugar to decorate
Method: Prep: 1 hour. Cook: 55 mins. 
Put the chopped oranges in a small saucepan, discarding any pips. Add 1 tbsp water, then cover and cook gently for 30 minutes or until the oranges are soft and excess liquid has evaporated. Leave to cool.
Preheat the oven to 180ºC (350ºF, gas mark 4). Line the bottom and sides of a 23 cm (9 in) springform cake tin with baking parchment. Finely chop the oranges in a food processor or blender, or with a large knife.
Put the egg whites in a large bowl and whisk until they form stiff peaks. Gradually whisk in half the caster sugar, then whisk for 1 minute.
Using the same whisk, whisk the egg yolks with the remaining caster sugar in another bowl for 2–3 minutes or until pale and quite thick. Whisk in the finely chopped oranges, then carefully fold in the lemon zest and the ground almonds.
Stir in 3 spoonfuls of the whisked egg white to loosen the mixture, then gently fold in the remaining whites with a large metal spoon. Transfer the mixture to the prepared tin and level the top. Sprinkle with the flaked almonds.
Bake for 50–55 minutes or until the cake is golden and a skewer inserted in the centre comes out clean. Check the cake after 20 minutes and again at 30 minutes, and cover lightly with foil if it is browning too quickly.
Leave the cake to cool in the tin, then turn it out, peel away the lining paper and transfer to a serving plate. Dust with icing sugar before serving. The cake can be kept in an airtight tin for up to 2 days.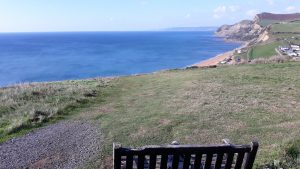 For any writer put off by the blank screen and finding it hard to get started on a poem, a short story, the scene of a novel or whatever, I would suggest switching to a notebook and pen. Time-consuming it may be, but there's something special about writing this way and for me anyway, the blank page is more of a friendly invitation than the rather scary blank screen in my office.
And it's more portable and sun-friendly. I often pack some water and a notebook and pen in a rucksack and head off on a writing walk. Exercise and getting some work done – it's a double whammy and hard to resist when the sun is shining.
First – switch off your phone, or even better leave it behind. Then, the exercise bit – this might involve climbing up a cliff path or walking along a beach until you get past all the people, but it could equally be walking to the park or a café, or wherever you think you might like to sit down and do some writing.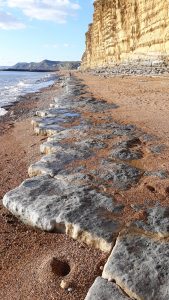 It's not only exercise though – this is multi-tasking at its best. Whilst walking (or running or cycling or whatever) you can look around you, let your mind wander, do a bit of nature (or town) appreciation. It's calming. The rhythm of the walking bit, the mind-wandering bit, the nature bit – I believe all these help you relax and forget other non-writing related problems that might be on your mind. They're a kind of lead-in into the sort of head-zone that helps us to write.
Sometimes though, I might be walking in order to sort out a plot problem. In this case, I'll let – even encourage – the work to come into my head as I walk. But I don't let myself stop too soon in order to write things down. Oh, no. Instead, I'll drive myself crazy by mulling things over, by letting the thoughts crowd in (in an ideal world) by listening to all the characters as they gabble away to one another. When I come to my stopping place I can't wait to start writing. Frankly, I'd go even crazier if I couldn't…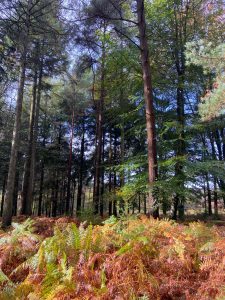 Hopefully you'll have a place in mind. I have a few. One of my favourites is overlooking a local beach, but I also like being on any beach watching the ocean, in the woods or in a quiet park on a bench with birds singing their hearts out. Even a noisy café can work for many people – it's easier to shut out that kind of noise than it is just one person talking on the phone at home (or so I have found – haha).
Once there, have a swig of water, relax, take in your surroundings and get your notebook out. And if nothing comes to mind, then write about where you are, what you can see, smell, hear, touch or taste. Write about how you feel or how you felt yesterday. Just get in the zone. It doesn't matter what you write. It matters that you write. And enjoy.
The Midnight Library by Matt Haig ****
This book is a bit special. It's a great premise for starters. Nora Seed (love that name) does not have a fulfilling life. She is depressed and we soon learn that she is contemplating suicide. So far, so Matt Haig. But when she tries to do the deed, something rather strange happens to Nora. She is transported into a library, along with her old librarian Mrs Elm (love that name too) and it so happens that all the books in this particular library are other versions of her own life.
This is a new angle on the Sliding Doors kind of story that is familiar, whereby a person can exist in some kind of parallel universe and end up having a completely different sort of life, depending on whether or not a different pathway or decision was taken in the past. But this story is different, and although it doesn't always work exactly (because where does the other Nora go when our Nora takes over their life?) it is fairly easy to suspend disbelief while Nora considers her life regrets and decides which different lives she would like to try on for size.
This is a life-affirming book and as such the ending may be slightly predictable. It is also not entirely easy to empathise fully with Nora when she is so many different people… But it seems petty to quibble when this book could potentially do an amazing job for those amongst of us who suffer from poor mental health and I very much like the overall message – the grass isn't necessarily greener on the other side. The writing is excellent, the little touches of magic are fabulous, it may even bring a tear to your eye. Highly recommended.
Where the Crawdads Sing by Delia Owens *****
Another goodie… This book is set in Barkley Cove in the 60s and 70s, a quiet town on the North Carolina coast. Specifically, it's set mostly in the marshland beyond, an isolated area where the only inhabitants are the 'swamp people' generally considered 'trash' by their arguably more genteel neighbours in Barkley Cove. When the story begins, the main character Kya is a young child who sees her mother leaving their marshland home due to her father's violence and alcoholism. Kya cannot believe it. Her mother always waves and she always returns, but not this time.
Kya has already witnessed her older siblings leaving; now there is just Jodie her elder brother, Pa and Kya. When Jodie too has had enough it is just Kya and Pa and then finally Kya is left alone to find food, to look after herself, to learn. Fortunately, there are a few people in the town who are not so prejudiced against the 'marsh girl' but even so, when a crime is committed in the town, suspicion soon falls on Kya.
This book is so well-written; as readers, we can't help but embrace the wild and sensitive character of Kya and hold her close throughout. We also embrace the marsh because the writing is full of the most wonderful descriptions and a sense of place that is just magical. Kya's story pulls us in and as the mystery deepens, the book makes for compelling reading. I absolutely loved it. To be taken with a log fire during long and dark winter evenings with your favourite tipple. Very highly recommended.
Small Pleasures by Clare Chambers *****
Yet another excellent read – definitely in my top 5 for 2020 – is this story set in 1950s post-war England. This absorbing tale is narrated by Jean, a spinster who has suffered many disappointments in life, and who has reconciled herself to caring for her truculent mother and never being able to escape or find the love and fulfilment she once craved. The saving grace of Jean's life is the independence she has carved out for herself through her job as a journalist. However, it is hard for a woman to get beyond the women's pages of domestic trivia and when a story comes up that suggests there may be a woman who has experienced a virgin birth living nearby, Jean is eager to cover it for the newspaper.
Enter Gretchen and Howard, a couple who seem very ordinary at first but who turn out to be anything but. Jean is gradually drawn into first a friendship and then a more intimate relationship and between them, the couple change her life. But was it a virgin birth that Gretchen experienced all those years ago and what are the hidden secrets surrounding the circumstances of conception? This mystery is the core of the story and Jean as well as various medical scientists are determined to find out.
Full of compassion and dry humour, 1950s life and immaculate period detail seep out of every pore of this emotive and captivating story.
The Other Passenger by Louise Candlish ****
Louise Candlish never disappoints and here she is again with another twisty tale of domestic noir to grip the imagination and keep us hooked to the very last page.
The narrator is Jamie, a forty-something who has given up his job in the city after an episode of severe claustrophobia and who is now working as an (overqualified) assistant in a London café. He lives with his girlfriend, Clare, and we learn early on that the elegant house they live in belongs to her and that she is a partner in a successful and up-market firm of estate agents. Jamie is funny (we are told) but in this set-up, bound surely to suffer from low self-esteem (though we're not told this; in fact, if anything he comes over as slightly arrogant IMO). Enter Kit and Melia, younger, attractive, out of work actors who both seem to have a chip on their shoulder about not being rich. Jamie and Clare befriend the couple, Kit and Jamie start travelling into the City on the riverboat and as the relationships intensify, so the plot thickens.
There are two timelines. One begins at the end of the year when Kit mysteriously disappears and two policemen question Jamie, believing he may have a motive for killing him; the other timeline takes us through the year from its beginning when the two couples first met. The action jumps from one to the other smoothly and successfully.
It's fairly unusual for Louise Candlish to take the voice of a male character for the entirety of the novel and as I didn't take to Jamie, this initially spoilt my enjoyment of the book. However, the twists and turns come thick and fast and pretty soon I was immersed and determined to work out how the book was going to end. (I got part of it but not all). No spoilers here, but it is a tale of betrayal and friendship, and it is also rather sad. Sometimes it's hard to know who to root for as the characters are (mostly) rather unpleasant but this, I suppose, is one of the conventions of this kind of domestic noir. Not my favourite by this talented author, but still a very good, super-tense and twisty read.
The Guest List by Lucy Foley ****
I love a good murder mystery and this one, a modern take on an Agatha Christie type plot, definitely fits the bill with a host of eclectic characters and plenty of secrets and lies. The occasion is a wedding party, taking place on the wild, isolated and rather spooky Cormorant Island, off the west coast of Ireland. The setting creates a great atmosphere, albeit a little clichéd. The golden couple getting married are Jules, publisher of a successful online magazine, and drop-dead-gorgeous actor Will.
The structure of the book is clever – the viewpoints are divided between 'bride', 'wedding-planner', 'bridesmaid', 'best man' and 'plus one' and each one of these characters has their own story to tell – which gradually unfolds (including flashbacks) as the wedding progresses, complete with drunken games, arguments, a storm, power cuts and eventually murder. But who has been murdered? And whodunnit? It seems that almost anyone could have.
There is a great sense of tension and impending disaster running through this narrative which continues unabated as we discover more about the characters – psychologically, this is fascinating! The plot is mostly strong, but there are a few plot niggles, little inconsistencies, coincidences and certain things that remain unexplained. But it's so well done, that the implausible moments are entirely forgivable. And there we go – yet another recommended read…