The Midnight Library by Matt Haig ****
This book is a bit special. It's a great premise for starters. Nora Seed (love that name) does not have a fulfilling life. She is depressed and we soon learn that she is contemplating suicide. So far, so Matt Haig. But when she tries to do the deed, something rather strange happens to Nora. She is transported into a library, along with her old librarian Mrs Elm (love that name too) and it so happens that all the books in this particular library are other versions of her own life.
This is a new angle on the Sliding Doors kind of story that is familiar, whereby a person can exist in some kind of parallel universe and end up having a completely different sort of life, depending on whether or not a different pathway or decision was taken in the past. But this story is different, and although it doesn't always work exactly (because where does the other Nora go when our Nora takes over their life?) it is fairly easy to suspend disbelief while Nora considers her life regrets and decides which different lives she would like to try on for size.
This is a life-affirming book and as such the ending may be slightly predictable. It is also not entirely easy to empathise fully with Nora when she is so many different people… But it seems petty to quibble when this book could potentially do an amazing job for those amongst of us who suffer from poor mental health and I very much like the overall message – the grass isn't necessarily greener on the other side. The writing is excellent, the little touches of magic are fabulous, it may even bring a tear to your eye. Highly recommended.
Where the Crawdads Sing by Delia Owens *****
Another goodie… This book is set in Barkley Cove in the 60s and 70s, a quiet town on the North Carolina coast. Specifically, it's set mostly in the marshland beyond, an isolated area where the only inhabitants are the 'swamp people' generally considered 'trash' by their arguably more genteel neighbours in Barkley Cove. When the story begins, the main character Kya is a young child who sees her mother leaving their marshland home due to her father's violence and alcoholism. Kya cannot believe it. Her mother always waves and she always returns, but not this time.
Kya has already witnessed her older siblings leaving; now there is just Jodie her elder brother, Pa and Kya. When Jodie too has had enough it is just Kya and Pa and then finally Kya is left alone to find food, to look after herself, to learn. Fortunately, there are a few people in the town who are not so prejudiced against the 'marsh girl' but even so, when a crime is committed in the town, suspicion soon falls on Kya.
This book is so well-written; as readers, we can't help but embrace the wild and sensitive character of Kya and hold her close throughout. We also embrace the marsh because the writing is full of the most wonderful descriptions and a sense of place that is just magical. Kya's story pulls us in and as the mystery deepens, the book makes for compelling reading. I absolutely loved it. To be taken with a log fire during long and dark winter evenings with your favourite tipple. Very highly recommended.
Small Pleasures by Clare Chambers *****
Yet another excellent read – definitely in my top 5 for 2020 – is this story set in 1950s post-war England. This absorbing tale is narrated by Jean, a spinster who has suffered many disappointments in life, and who has reconciled herself to caring for her truculent mother and never being able to escape or find the love and fulfilment she once craved. The saving grace of Jean's life is the independence she has carved out for herself through her job as a journalist. However, it is hard for a woman to get beyond the women's pages of domestic trivia and when a story comes up that suggests there may be a woman who has experienced a virgin birth living nearby, Jean is eager to cover it for the newspaper.
Enter Gretchen and Howard, a couple who seem very ordinary at first but who turn out to be anything but. Jean is gradually drawn into first a friendship and then a more intimate relationship and between them, the couple change her life. But was it a virgin birth that Gretchen experienced all those years ago and what are the hidden secrets surrounding the circumstances of conception? This mystery is the core of the story and Jean as well as various medical scientists are determined to find out.
Full of compassion and dry humour, 1950s life and immaculate period detail seep out of every pore of this emotive and captivating story.
The Other Passenger by Louise Candlish ****
Louise Candlish never disappoints and here she is again with another twisty tale of domestic noir to grip the imagination and keep us hooked to the very last page.
The narrator is Jamie, a forty-something who has given up his job in the city after an episode of severe claustrophobia and who is now working as an (overqualified) assistant in a London café. He lives with his girlfriend, Clare, and we learn early on that the elegant house they live in belongs to her and that she is a partner in a successful and up-market firm of estate agents. Jamie is funny (we are told) but in this set-up, bound surely to suffer from low self-esteem (though we're not told this; in fact, if anything he comes over as slightly arrogant IMO). Enter Kit and Melia, younger, attractive, out of work actors who both seem to have a chip on their shoulder about not being rich. Jamie and Clare befriend the couple, Kit and Jamie start travelling into the City on the riverboat and as the relationships intensify, so the plot thickens.
There are two timelines. One begins at the end of the year when Kit mysteriously disappears and two policemen question Jamie, believing he may have a motive for killing him; the other timeline takes us through the year from its beginning when the two couples first met. The action jumps from one to the other smoothly and successfully.
It's fairly unusual for Louise Candlish to take the voice of a male character for the entirety of the novel and as I didn't take to Jamie, this initially spoilt my enjoyment of the book. However, the twists and turns come thick and fast and pretty soon I was immersed and determined to work out how the book was going to end. (I got part of it but not all). No spoilers here, but it is a tale of betrayal and friendship, and it is also rather sad. Sometimes it's hard to know who to root for as the characters are (mostly) rather unpleasant but this, I suppose, is one of the conventions of this kind of domestic noir. Not my favourite by this talented author, but still a very good, super-tense and twisty read.
The Guest List by Lucy Foley ****
I love a good murder mystery and this one, a modern take on an Agatha Christie type plot, definitely fits the bill with a host of eclectic characters and plenty of secrets and lies. The occasion is a wedding party, taking place on the wild, isolated and rather spooky Cormorant Island, off the west coast of Ireland. The setting creates a great atmosphere, albeit a little clichéd. The golden couple getting married are Jules, publisher of a successful online magazine, and drop-dead-gorgeous actor Will.
The structure of the book is clever – the viewpoints are divided between 'bride', 'wedding-planner', 'bridesmaid', 'best man' and 'plus one' and each one of these characters has their own story to tell – which gradually unfolds (including flashbacks) as the wedding progresses, complete with drunken games, arguments, a storm, power cuts and eventually murder. But who has been murdered? And whodunnit? It seems that almost anyone could have.
There is a great sense of tension and impending disaster running through this narrative which continues unabated as we discover more about the characters – psychologically, this is fascinating! The plot is mostly strong, but there are a few plot niggles, little inconsistencies, coincidences and certain things that remain unexplained. But it's so well done, that the implausible moments are entirely forgivable. And there we go – yet another recommended read…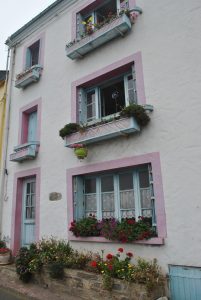 I've been drawn back into the research trip I made to Belle-ile-en-mer, Brittany, France, for 'Her Mother's Secret' by a Kindle promotion running for the month of January 2021. See here: https://amzn.to/3sgi62Y
So I thought I'd share a few of my favourite pictures…
This house overlooking the harbour in Sauzon was the inspiration for Thea's home and flower shop.
Colette has not been back to Sauzon for years and when she finally returns, it is the trigger for an emotional journey in more ways than one.
The island is full of quirky houses, wild moors and gorgeous sandy beaches.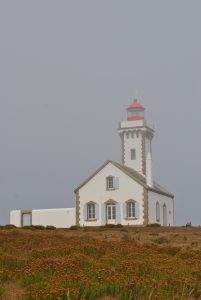 This atmospheric lighthouse can be seen for miles. It's on the wild moorland by the rocky beaches and gave me the idea for the Old Lighthouse where Élodie lives and creates her driftwood sculptures, having collected the wood from the rocky bays nearby her home.
There's so much to see in Belle-ile-en-mer. Here are some goats spotted on Donnant beach!
And some beautiful sunflowers…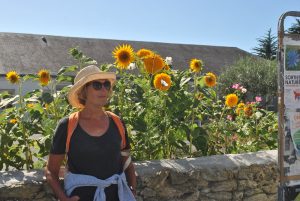 Belle-ile was the place that Claude Monet fell in love with when he painted the rocks at Port-Coton. "I am in a wonderfully wild region, with terrifying rocks and a sea of unbelievable colours; I am truly thrilled, even though it is difficult, because I had got used to painting the Channel, and I knew how to go about it, but the Atlantic Ocean is quite different." (Letter from Monet to Gustave Caillebotte).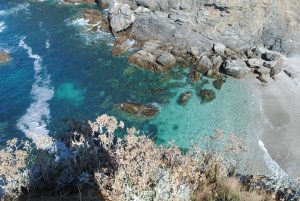 It was also home to Sarah Bernhardt for many years. It's the kind of place you can fall in love with (or the kind of place where you can fall in love).
When this pandemic is over and we're all able to travel again, I hope to go back there one day and re-visit all the haunts that I wrote about in 'Her Mother's Secret'. Until then, if you want, you can visit for just 99p 😉 https://amzn.to/3sgi62Y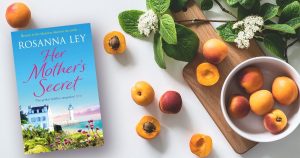 It's winter, traditionally a time for hunkering down and getting involved in a new world. I usually start a new book around October, so by now, most of the planning and some of the research should be done and I'm starting to hear the characters' voices. It's time to begin.
It's never easy to begin though. That scary white page, that blank screen… There are so many possibilities and it seems so important to get it right. It isn't though. The important thing is to start – and then once it's on the page you can fix it (thanks to Ian Rankin for that quote).
Many writers say they're finding it hard to write during this global pandemic – understandable; so many of us are suffering from anxiety and many more have loved ones who have been ill or even lost to the disease; how can we hope to focus on anything else while all this is going on?
We are though in a privileged position. Not only can we escape to another world through reading, which isn't just a distraction nor just a pleasure; to many of us it's a lifeline. But as authors, we can also take time out from these challenging days to create our own world. We can create our own characters (who may or may not be in difficult or traumatic situations – that's our choice) and we can create their setting, their backgrounds, their problems and their joys.
Writing… It's fun, it's a distraction, it's a way of being emotionally invested in something you can totally control. How good is that? Forget those well-worn clichés about authors not being in control of their own novels, of characters who 'leap' off the page and dictate the action. What were you – an empty vessel? Nah – as the author, you can make this happen or you can stop it from happening; the choice is yours.
Because when your characters seem to leap off the page – it's because you made them so lifelike in the first place that they had the ability to jump. Yes, you did that. You created three-dimensional, interesting people with real issues that readers could become emotionally invested in. And if those characters seem to direct the action – it's because you got them right in the first place.
That wonderful feeling, when as an author you are in the zone, your pen (or fingers) are flying, your inner censor is strangely silent, your authorly anxieties have gone to sit in another room… That's not your story or your characters taking over, that is you letting go, allowing your imagination and creativity to run free, that is you being an author. Don't let anyone take it away from you. You created this new world, it's now yours to make of it what you will…