It was a warm week at the finca el cerillo this July – but there's always plenty of shady places to write or relax in and then there's the pool with its stunning mountain views…
In the mornings we did writing exercises taking a different topic each day from 'The Suitcase' to 'The First Date' and blended this with work on autobiography (using favourite smells from childhood to trigger memories of a place and a person) flash fiction, novel beginnings, sensory overload and character development. Some writers used these exercises to develop work already in progress and some writers got started on a new idea.
After this there were 1 to 1s where we were able to chat individually about… anything and then a leisurely lunch. The afternoons were free for individual writing/ chilling/ swimming/ reading.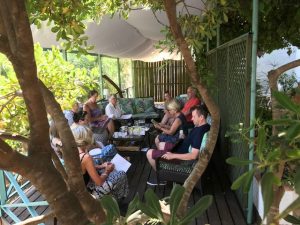 Late afternoon we met up for our group workshop on the shady 'Palm Deck' (with a gin and tonic in some cases) and listened to each other's work with our constructive and encouraging hats on. Most people said they had written much more than they had expected to during the week. And from the feedback comments at the end, I think everyone had a good time.
Steph kindly organised an optional meditation session one afternoon with some useful 'brain tips' to help us feel more in charge of ourselves… And Keeley encouraged us to learn a bit of basic Spanish which came in handy when organising drinks when we visited local restaurants for dinners out.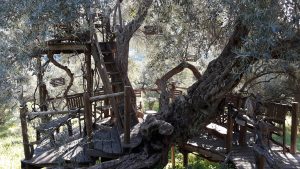 First thing in the morning a few of us did the traditional walk around the olive grove which takes in some glorious mountain views and the sight of Gordon's treehouse constructed in an ancient olive tree.
In the evenings we had Elaine's quiz, Richard's music quiz, Gordon's Desert Island Discs and the infamous hat game (not at all competitive and lots of FUN… 😊) And one night there was music and dancing in the square in Canillas.
We played writing consequences too and wrote limericks for the last workshop session, which wasn't easy but was good practice and a lot of laughs.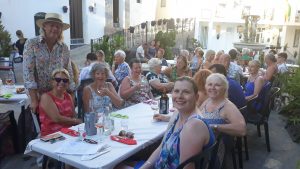 Our next Writing Holiday is March 2023 which is already fully booked but I will be opening up bookings for June 2023 very soon. Watch this space or email me for further information!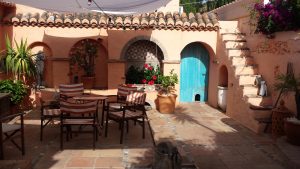 In your spare time in this hot weather why do anything more energetic than get into a good book…?
Read on for my summer reading suggestions – including my Book of the Season: Sorrow and Bliss by Meg Mason
The Postcard from Italy by Angela Petch ****
You can't get much more summery than this dual-timeline novel by Angela Petch set in Puglia, Italy, an area dear to my heart. In Italy in 1945 a young man wakes, bewildered by the bandages covering his face – because he remembers nothing. To the old man who found him he is his dead son Roberto. To Anto, he is a man who fell from the sky who needs to be nursed back to health.
Meanwhile in England in present day, antique shop owner Susannah is reeling after the death of her father. When she finds a postcard of an Italian farmhouse bearing a poignant message of love, she is intrigued. Did her grandmother Elsie have a secret lover?
Elsie suffers from dementia and is unable to give her the answers she is looking for, so Susannah travels to Puglia and manages to track down the Masseria in question. But who wrote the words on the back of the postcard and what are the connections with her family? Susannah feels strangely at home here in Italy. Could it be that this is where she will find her own love as well as the secrets of her past?
This is a story about lost memories and learning to trust and love. I adored the setting – the description is vivid, evocative and the historic element seems impeccably researched. I also felt a great warmth towards the characters – Angela Petch has a way of involving the reader and making her care about the outcome. Most of all however, it is Italy – the culture, the food, the history that came alive for me and made this a compelling read.
The Garden of Lost and Found by Harriet Evans ***
I have to admit that it took me a while to get into this book – but I am glad I persevered as it ended up being a compelling and emotional read.
In the contemporary story, Juliet, an art historian, is part of a complicated family who once lived in the beautiful but dilapidated Nightingale House. She now lives in London with her unpleasant husband Matt and her rather difficult (and also quite unpleasant) children, Bea, Isla and Sandy. What put me off this story was the way the entire family treated Juliet.
The historic story line however, featuring the charismatic Liddy and her artist husband Ned, with Mary, Liddy's sister and the architect Dalbeattie was fascinating and gripping although also disturbing in places. After a troubled childhood of abuse, Liddy runs away to marry Ned and eventually he buys back the family home, Nightingale House. However, there is more tragedy ahead for the family and it is this that holds the plot together and provides the trigger for Juliet as she gradually uncovers the secrets of her ancestors.
Finally fed up with her treatment at the hands of Matt, Juliet takes the plunge to leave him, aided by the unexpected gift of Nightingale House in which to raise her family. However, the house needs a fortune spending on it and the children do not take kindly to being uprooted and moved away from their friends and their family. Juliet however, finds old friends in the village and a new job which has unexpected rewards.
I really enjoyed this book – especially the historic element – and once again, Harriet Evans weaves an evocative story around the past with the help of an unusual and gorgeous building.
The Distant hours by Kate Morton ***
Edie has always loved the famous and bestselling 'True history of The Mud Man' and she begins to suspect that the story may be connected to her mother's childhood in more ways than her mother has ever admitted. Her mother was evacuated to Milderhurst Castle as a young girl during the second world war and this is the home of 'Mud man's' creator, the author Raymond Blythe.
When Edie finds herself nearby, she decides to go and see the place for herself and she experiences a sense of déja vu – her mother denies it but Edie is sure that she has been here before. Edie is drawn into the history of the place and meets the daughters of the late Raymond Blythe – Persephone, Seraphina and Juniper, all old ladies now. But the more she learns from them, the more mysteries appear, and it is harder than ever to reconcile the evacuated girl with Edie's straight-laced mother. How can she have changed so much and why?
The story moves between Edie's contemporary investigations and the older story, told through the viewpoints of the three sisters. It raises many questions – what happened to Juniper's lover Tom Cavill who disappeared mysteriously one stormy night? What has happened to Juniper, who seems to suffer from some sort of dementia, and why are the twins Percy and Saffy the way they are?
The dual timeline is woven with skill and as a reader, I felt involved with each character and their story. It is a long and at times convoluted read, but the author keeps the reader interested through a series of tantalising questions. One mystery leads seamlessly to the next, until finally the entire story is revealed. Not my favourite Kate Morton book but still highly enjoyable.
A Friend of the Family by Lisa Jewell ***
Lisa Jewell's easy and fluent writing style is always a joy; she's my favourite 'go to' author when I need an easy-reading book that's guaranteed to keep me wanting to turn the pages. However, 'A Friend of the Family' is one of her older books and lacks the psychological thriller type twists that characterise her later work and I missed that.
Ned, Tony and Sean are the three London brothers whose lives are going wrong (partly due, we are told, by the fact that their contented and happily married parents Bernie and Jerry loved them too much). Ned has just returned from travelling, having left a mentally unstable girlfriend in Australia, and is finding it hard to adjust to the fact that everything at home has somehow changed. Tony, already divorced, is now seeing Ness, but while she is lovable and gorgeous, Tony knows she's not 'the one' and that something is missing from his life. Sean has 'made it' with his debut novel but just as he thinks he's found the perfect woman, everything begins to unravel.
Into this maelstrom of family discontent, steps Gervase, a new friend of the family. He seems innocuous enough – though eccentric – at first, but as time goes on, he gets more involved with the brothers. Gervase appears to have psychic powers. Perhaps he can help this family sort themselves out?
This is a nice idea and a great description of family relationships and exploration of male voices which is completely convincing (to this woman, at least). It may not have the twists and turns of some of Jewell's books, but it's still a satisfying read.
Sorrow and Bliss by Meg Mason *****
I loved this raw, emotional story and found it both hilarious and deeply poignant.
The narrator throughout is Martha, sister to Ingrid (mistress of great one-liners) and daughter to a gentle unsuccessful poet (her father) and an alcoholic, crazy and creative sculptor (her mother). The story opens when Patrick, Martha's long-suffering husband, finally leaves her. We then go back in time to Martha's childhood, charting the first time she ever met Patrick, a friend of her cousin's.
Martha's story is a sad one. From childhood, she has suffered from an undiagnosed and unspecified mental illness, which drives her to hurt those she loves; she has led a life of mental suffering and even attempted suicide. Life is also far from easy for her soul-mate Patrick.
We follow their relationship, their marriage, their break-up and what happens next. Although heart-breaking, it is also laugh out loud funny and the author has been very clever in making this contradictory combination work so well. Martha is mostly horrible and yet I empathised with her, probably because the reader gets to understand the inner Martha who is often not available, even to those she loves. It's hardly her fault. The question remains though – can she do anything to change the way she is?
The writing style is honest and succinct. Not a word seems overblown or out of place. It's a compelling and thought-provoking read. Highly recommended and easily my favourite book of the summer.
The Other Child by Lucy Atkins ****
Another psychological thriller by the talented Lucy Atkins, and this doesn't disappoint. Photographer Tess – who is divorced from David – has fallen in love with Greg, a paediatric surgeon and as a result, has moved with her young son Joe, across the Atlantic to be with her new husband. But right from the start, all is not as perfect as she had hoped. Greg – who I distrusted from the first incidentally 😉 – has a dangerous secret…
Tess feels isolated, Joe is not settling into his new school, her neighbour Helena is manipulative, and Tess is sure that someone is coming into the house when she is not there. And then there are the unsettling and disturbing notes that Greg is receiving… Something is definitely not right…
Tess is a realistic character and it was easy to tune in
with her emotions and fears – the author skilfully shows her growing sense of unease, suspicion and isolation. Greg was certainly a bit too perfect!
I found the story well-written, fast paced and suspenseful and would recommend if you like getting your teeth into a gripping and psychological drama.
The Castaways by Lucy Clarke ****
This latest and very successful thriller starts very strongly. Two sisters, Lori and Erin are on their way to Fiji for a holiday, they argue, one misses the flight, and the plane gets into trouble… It's highly atmospheric; you can taste the fear.
Onboard the plane are the pilot, the flight attendant, an elderly couple, a young mother with a baby, two men, and Lori. The pilot manages to crash land the aircraft on one of the many small, uninhabited islands in the Pacific. Meanwhile, the island setting descriptions are vivid and evocative.
The survivors must find a way to survive in the dense jungle, searing heat and shark-infested waters, and they must get along. There is growing distrust between them however, and slowly they realise that a rescue is unlikely since no one knows where the plane went down.
Journalist Erin however, does not give up hope. She is determined to find out what has happened to her sister.
This unsettling book is well-written and there is plenty of tension to make the reader want to carry on turning the pages. Highly recommended.
In a Good Light by Clare Chambers ***** 
Clare Chambers is fast becoming one of my favourite authors. Her precision with language and her attention to fine detail expertly draws the reader into the world she has created. And what an interesting world…
Esther is the narrator. We learn that her brother Christian is confined to a wheelchair following an accident and we join the fray just as Esther is told that Christian is to marry his bossy carer Elaine – thus destroying the cosy household he currently shares with his sister. Esther will now have to move out. But how will her meagre earnings as a book illustrator enable her to pay rent? And what will become of her unusual relationship with married Geoff, her ex-GP?
Once the main details are established, we are taken back to Esther and Christian's childhood. The household was eccentric. Their mother liked to give to the 'less fortunate' rather than provide any extras for her family, whilst their father, a vicar, was always determined to see the good in everyone. The house meanwhile, was left to fall apart.
Other characters flit in and out of the action as we move inexorably towards the events that led to Christian's accident. There is alcoholic Auntie Barbara, her practical son Donovan, Christian's long-suffering, rich girlfriend Penny and troubled Martina. In the end, Christian's accident seems inevitable.
Following the accident, we move back to current narrative time. Christian's forthcoming marriage brings some of these characters back out of hiding, with rather surprising results. A compelling story that is highly recommended and wins my Book of the Season vote.
The Night she Disappeared by Lisa Jewell *****
Not her latest, but this one has just appeared on my radar and it's a goodie. The story opens in Kim's viewpoint. Her daughter Talullah is out with her boyfriend Zach and they haven't come home. This is worrying – they have a baby boy and as more time goes past, Kim realises that some harm may have come to them. Where are they? It is a mystery that remains unsolved for a year.
Jump to a year later and Sophie, a crime writer and girlfriend to the new head of a nearby private school, moves into a cottage in the grounds of the school, also close to a wood and an old mansion known as 'Dark Place'. She becomes intrigued by the mystery, even more so as someone is leaving her clues which seem to strangely echo plots of her own novels. She contacts Kim and together they try to solve the mystery.
We then go back in time, further this time, into Talullah's point of view before the disappearance, and we learn the complexities of her relationship with Zach and much more besides. We gradually learn her connection with 'Dark Place' and finally what happened to them both on the night they disappeared.
Kim and Sophie get there too with a bit of help from Dom of C.I.D. and finally, we learn the truth.
As always with LJ, the book is written, crafted and structured with consummate skill and it kept me gripped and admiring to the very end. Highly recommended and my second 5 * of the season.
Open Water by Caleb Azumah Nelson ****
Nelson won the Costa Book Awards first novel award with Open Water and I was looking forward to reading it, so chose it for my book club.
It's primarily a love story between two young people – both black, both living in London, both involved in the creative arts, he as a photographer, her as a dancer. They are hopelessly drawn towards one another – there is a sense of destiny and 'rightness' which adds a poignant note, but they resist embarking on a relationship beyond friendship (although it's very intimate for friendship!) for various reasons including their reluctance to 'come out' into 'open water'. But at last and inevitably they do.
Open Water is not just a love story however. It is also about being a young black male in London, the sense of alienation and suppression and the need to find somewhere to call home. For me, this was the strongest and most powerful element of the novel.
The writing is poetic and rhythmic and becomes almost hypnotic in places. Nelson uses the rhythms of jazz and hip-hop and drops in cultural references and language which were unfamiliar and interesting to this reader; this is a world that was new to me and I felt privileged to learn more about it, although it was also unsettling and disturbing at times. However, I did find the prose hard-going – it is written in second person and this seems to give both immediacy and a conflicting sense of distance. It is certainly not an easy read. As a stream of consciousness, it was also repetitive in a way that didn't always work for me.
But it gave some fascinating insight and members of our book club all said they were glad to have read it. Open Water felt like an important read and its author definitely a talented new voice to listen out for.
Someone to Love by Tracy Corbett ****
Tracy is my queen of romantic comedy – she has such a fluent writing style and the story is peppered with her usual wit and warmth.
Maid of honour Beth Lawrence and best man Matt are not best pleased to be left to organise the wedding of her sister Meghan to his nephew Zac. The time scale is minimal, they would both rather be doing other things and to cap it all, they simply do not get on. Firefighter Matt is just too laidback for Beth's liking while she is way too organised for him. But as they get to know each other better, it seems that this could be the basis of a relationship after all, and not just any relationship – this could be something special.
As always with Tracy's books, there is a cast of interesting characters to keep things off the wall and entertaining. Plus a spanner in the works that threatens to de-rail the wedding altogether. But Matt and Beth must make teamwork a priority in order to make this wedding a success.
This book is fun and flirty and is a perfect holiday read.