Here are my winter reading recommendations for this year… Curl up by a roaring fire and enjoy!
Normal People by Sally Rooney
This is the story of two young people, Marianne and Connor, the relationship between them and their attempts to fit in (or not) with society as they attempt to make sense of the world around them. So, it's kind of the story of their relationship to each other and the world. And a fascinating and insightful story it proves to be…
We meet Marianne and Connor when they are both seventeen and at school. Marianne comes from a privileged background that lacks love and Connor from a working-class background, brought up by a single working mother (who happens to clean for Marianne's family) with love in abundance. Connor fits in at school, Marianne doesn't. As time goes by, their relationship develops and changes, and by the time they go to college, their social positioning has reversed. They both find it hard to be 'normal people.' But do we have to be? Can we be unconventional and weird and yet also be not lonely or disturbed. And what or who is 'normal' anyway?
Sally Rooney explores these interesting questions with wit and emotion. Her writing is compact and precise and I felt completely drawn in to the world of her characters; their stories, their lives, their love. According to reviews, this is a 'Marmite' book. I found it compelling, highly charged, vivid and fascinating. Yes, Reader, I loved it.
One Moment by Linda Green
Linda Green's new novel is rather different from those she has written in the past. Linda is known for her twisty and psychological domestic noirs. Although there is some suspense in this story, in One Moment, she is exploring something rather different.
Finn is a boy who is also 'different'. He doesn't like football or rugby, he has ginger hair and is unusual, or 'good-weird' as his mother puts it. He is bullied at school, and a bad situation is escalating. Kaz is a woman in her fifties who has spent her life caring for her brother Terry who has mental health issues. The book is written from these two viewpoints. They meet once and then a second time. Everything before the second time is titled 'before'; everything after the second time is 'after'. We know right from the beginning that something traumatic occurred at the second meeting, and we know part of the 'what', but we don't know exactly how until almost the end of the book.
What we are presented with throughout the novel are the consequences of the second meeting/ traumatic event for both Kaz and Finn, who go on to form an unlikely but enriching friendship which helps both characters cope with what has happened.
Linda Green tells this story with a great deal of emotion and her usual fast pace. It is warm and emotive, heart-rending in places and really makes you think about what some people have to deal with. Good on you, Linda, for writing something that was important to you and for being brave enough to step outside of your usual genre and therefore confront reader expectation.
The Family Upstairs by Lisa Jewell
LJ does it again. Brilliantly plotted, full of twists, menace and emotion, this is one of her best, in my opinion.
Our first narrator (identity unknown to begin with) takes us through what happened in the big family house of his childhood in Cheyne Walk, Chelsea in the 1960s when some people moved in and gradually took control of both house and occupants. At the start of the story, three of these occupants are found dead, apparently in some suicide pact, alongside a healthy baby.
Our second narrator (Lucy) is living in poverty in France with her two children. She too has a connection with Cheyne Walk. But can she get back there to see 'the baby'? The third narrator is 'the baby' herself, Libby who was adopted and who inherits the house on her 25th birthday. She decides to try and solve the mystery of what happened twenty-five years ago and of course she finds out much more than she'd bargained for.
Riveting. Unputdownable. Thought-provoking. Spooky. Highly recommended.
The Beekeeper of Aleppo by Christy Lefteri
This is the story of Nuri and Afra, two refugees, who are forced to leave their troubled, war-torn homeland of Syria to make the long and difficult journey to the United Kingdom.
Nuri is a beekeeper in Aleppo and with his friend and cousin Mustafa he has created a meaningful and fulfilling life for himself which is centred around his bees, his wife Afra and their son Sami. But when this life is threatened, the Syrians are forced to contemplate escape, despite terrible personal tragedy. After his wife and daughter have already done so, Mustafa leaves and eventually makes it to England; it is his voice through email messages that reaches Nuri and Afra and urges them on, however bad things may be, to stay strong and to find a way to a new place, a place where once again they can work with bees and build a new life together.
Christy Lefteri creates a delicate balance in her portrayal of the relationship between Nuri and Afra which moves from light into darkness and back again as both characters try to come to terms with traumatic events and circumstances and find a way forward together. And yet, despite the subject matter, this is a story of hope and resilience; an important story which gives voice and a personal narrative to people who are too often classed together as one i.e. as 'refugees'. Lefteri reminds us that everyone has a personal story and that every escape is deeply traumatic and hard-won. A compelling and thought-provoking novel. Highly recommended.
The Confession by Jessie Burton
I very much enjoyed this exploration of some of the complexities of women's lives told via a dual timeline narrative. In the 1980s, the young, beautiful and naive Elise Morceau meets Constance Holden on Hampstead Heath. She soon comes under the spell of the older, more confident and charismatic Constance, a writer whose novel is being turned into a big Hollywood movie. They begin an intimate relationship and go together to Los Angeles. Whilst Constance enjoys the glamour and Hollywood façade of LA, Elise finds herself out of her depth and their relationship begins to fall apart.
In the contemporary story, Rose, mid 30s, is going through a life crisis and is full of uncertainty when her father gives her some information, the catalyst which sends her on a search to find out her mother's story. She meets Constance and under false pretences, begins to work for her. This relationship becomes critical to Rose's development and journey as Constance too, faces up to events of the past. I was however, slightly disappointed by the ending of the novel, which felt too inconclusive to be satisfying.
Jessie Burton is a brilliant writer and her characterisation of Elise, Constance and Rose is thorough, authentic and compelling. The contrasting locations are well-evoked and the novel positively shimmers with emotion. I very much enjoyed this novel about motherhood, friendship, love and search for identity. Highly recommended.
Elizabeth is Missing by Emma Healey
It is very brave, I feel, to write a novel solely from the POV of someone with senile dementia/ Alzheimers. By definition, this must become a fragmented, perhaps repetitive narrative. This said, Emma Healey minimises the repetition and adds humour which works well.
Maud, in her eighties and with worsening dementia, is the sole narrator. Her long-suffering daughter Helen looks after her and the relationship between the two of them is poignant, well-expressed with bitter-sweet emotion. So, this is a story about the effects of dementia. But it is also a story of two mysteries: one concerns Elizabeth – is she missing? The other concerns Maud's sister Sukey who went missing back in the late 1940s.
Maud's wandering mind and her difficulty in snatching fragments of memory and piecing them accurately together provides a useful device through which the author can keep returning to the events of 1947 to give us clues about Sukey's disappearance, though I found the lack of variety in the catalyst slightly irritating. However, it is this story which really sparks the reader's imagination since Maud's perspective is naturally so much clearer back then, the characters of Frank and Douglas add interest to the story and the mystery seems real (while the mystery of Elizabeth exists mainly in Maud's mind).
The writing is excellent, the use of language is vivid, and up to a point, the story is engaging. My main gripe with the novel is the fact that for a long time we do not hear through dialogue where Elizabeth actually is. Whilst I appreciate that we are in Maud's viewpoint, we do hear lots of other dialogue, so this is slightly inconsistent, I feel. However, that said, this is a fascinating story of dementia, held together and made engaging by a mystery; a strong cross-genre book of literary/ crime that is definitely worth a read.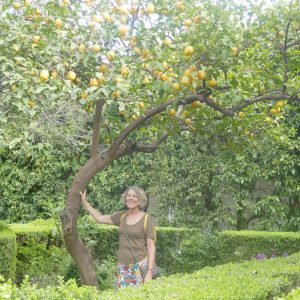 For me, 2020 has begun in Seville with oranges. The book I'm writing (working title The Bitter-Sweet Oranges of Seville) to be published by Quercus Books in March 2021, is set in West Dorset and Seville and features lots of oranges…
To research this book, I spent a few glorious weeks in Andalusia visiting – among other places – the Ave Maria Orange Farm where this picture was taken. We were shown around the farm by José who explained how and why the landscape of the Alcor is perfect for growing orange trees and how the growing and the production works. This farm prides itself on its values and its standards – the fruit is organic and the trees lovingly tended – José even plays classical music to the trees and firmly believes that they communicate with each other through their roots. The farm supplies Waitrose with their organic Seville oranges and is the inspiration behind many a marmalade.
Writing about the Ave Maria Orange Farm this week has taken me right back to last March when I first visited the area. And on a dreary January morning in the UK I can't think of a nicer place to be…
Is it still Autumn..? Or has winter crept in already? I suspect the latter but it's a sunny day and still just about November, so here's 6 books for late autumn and there will be more reviews to come in the dead of winter. Brrr. Sit by an open fire and enjoy…
The Glittering Hour by Iona Grey
I loved Iona Grey's debut novel, Letters to the Lost, and once again, with The Glittering Hour, Iona does not disappoint.
The story is written in a dual timeline narrative using the device of letters from Selina to her daughter Alice and a 'treasure-hunt' which Alice must follow, as a way in which to switch seamlessly from one time to another (ten years earlier).
Alice has been sent to stay with her cold stern grandparents at Blackwood whilst her parents are abroad, and she misses her mother terribly, though her relationship with her father has always been distant. Her mother's letters though, bring her some comfort and enable her to explore Blackwood and her mother's past, while the reader follows first-hand the story of Selina Lennox, one of the renowned 'Bright Young Things' of the 1920s, as she meets Lawrence Weston, a struggling young artist.
The book explores the mother and daughter relationship beautifully and evokes the glamour and charm of the 1920s following the losses and pain of the first world war with authenticity. It also shows the reader how pain and grief can lead to bad decision-making which can impact on the rest of one's life. But at the heart of The Glittering Hour, behind the cocktails and the partying is the vulnerability of a tender and touching love story, beautifully written. Highly recommended.
The Cleaner of Chartres by Sally Vickers
The main narrator of this novel, the quiet, reflective and mysterious Agnès Morel is a foundling raised by nuns, who has spent time in a psychiatric hospital following events in her teenage years and who now in her forties, works as the cathedral's cleaner. Many people in Chartres have come to appreciate her – the knowledgeable Alain who tells her stories revealed through the architecture and stained glass of the beautiful cathedral, the Abbé Paul who first found Agnes homeless and sheltering in the porch, the artist Robert, the local professor and more. Not everyone however is so well-disposed towards her – most especially Madame Beck who finds out about Agnes's past through a visit from one of the sisters at the convent and takes pleasure in spreading malicious rumours about her.
Absence and loss dominate Agnès's life and we learn her history as the past narrative is taken up in sections throughout the present story, interwoven with skill and delicacy. Sally Vickers dwells with love on the descriptive story of Chartres cathedral and has a light but highly observant touch when it comes to the more unpleasant side of human nature. A gentle and thought-provoking novel. Highly recommended.
After the End by Clare Mackintosh
I was inspired to read this book after listening to an interview on BBC Woman's Hour with the author, about how Clare Mackintosh's own traumatic life experience led her to write this work of fiction. In her afterword, the author explains why she explored the issues and emotions in the way she did.
Two year-old Dylan, son of Pip and Max is diagnosed with a brain tumour. Even with surgery it cannot be wholly removed, meaning Pip and Max must make an agonising decision – whether to follow hospital advice and let their boy go or whether to fight for his life, knowing that the life that lies ahead for him will be short, painful and hard. This story is about what happens after the couple each make their decision.
The story is told from three viewpoints – that of Pip, Max and the doctor dealing with Dylan's case. It is a heart-rending and difficult read and the author was undoubtedly brave to undertake it. As well as dealing with the emotions of all concerned, Clare Mackintosh also questions the ability and right of individuals, society and hospitals to make decisions about another life. What will the future bring? We can answer that question at some point in the future but we can't answer it in present time, because no one knows and yet sometimes we have to make judgements regardless. While I understand why the author chose to structure the second part of the book in the way she has, I found this and the ending confusing and unsatisfying. However, perhaps there was no other way. Whilst I recommend this extremely thought-provoking book, be prepared for an emotional roller-coaster.
The Last Tudor by Philippa Gregory
I enjoy reading Philippa Gregory novels – she is thorough in her research and a great story-teller.
However, the Last Tudor isn't one of my favourites, perhaps because the three Tudor princesses – Jane Grey and her sisters Katherine and Mary are all imprisoned, which means that so much of the book is written from the viewpoint of 'a prisoner' (there are three parts, one for each perspective) and this makes the narrative feel a little repetitive at times. Elizabeth I fascinates me as a character but much of the time her actions are necessarily viewed through hearsay and gossip. This book lacks the colour and life of her court that one might expect of the period, even though the emotions of the women are brilliantly invoked.
Each character though is thoughtfully developed and explored and each character is believable and interesting. The love affairs are reconstructed with passion and emotion and the writing is as excellent as ever.
Perhaps then it is the subject matter that let this story down for me. A Gregory historical is always a great read and I always learn a lot about our history too.
The Perfect Wife by JP Delaney
It's a source of considerable excitement for me when one of my favourite authors brings out a new book and let me tell you – this one did not disappoint. As fast-paced and hauntingly original as ever… I was gripped from Page 1.
And what a page one. Abbie emerges from what appears to be a coma in what seems to be a hospital bed. But it wasn't a coma and she isn't in hospital. Memories are gradually coming back to her and her much-loved husband Tim, a high flying technophobe is by her side. But what happened to her? Did she have a terrible accident? Did she almost die? Well, yes and no. Because this Abbie is actually a sentient A.I, built by Tim to provide a near-living replica of the dead wife he adored. Is this hard for the reader to believe? Well, no – because A. I. Abbie's viewpoint is used so cleverly within the pages.
However, as with all this author's books it does become harder as you read on, to know quite what or who to believe, just as it is hard to guess who the 'other' narrator might be. Someone else working at Tim's company? Someone who calls themselves 'a friend' who is not a friend? All will become clear eventually. Simply suspend your disbelief, jump in for the ride and you will enjoy every spooky, disturbing, amazing second of this book, just as I did. Highly recommended.
The Truths and Triumphs of Grace Atherton by Anstey Harris
This book is pure joy. I love the writing style and it is very much the 'up-lit' type genre to be found in successful books recently published such as 'Eleanor Oliphant is Completely Fine' by Gail Honeyman.
Grace Atherton is a musician who is unable to play to an audience due to a trauma she suffered when at music college. Now, aged 40, she is a violin, viola and cello maker living in Kent and playing alone. She lives alone too, though she has a charming boyfriend David who she meets regularly in Paris, a young shop assistant Nadia – also a talented musician but with problems at home – and Mr Williams, a valued customer who has become a friend. When Grace's world falls apart, it is Nadia and Mr Williams who help her through.
The novel is set in Paris, Italy and Kent. I especially loved the Paris sections; Paris is a character in its own right in this story. The novel is written entirely from Grace's point of view and the contemporary story is woven in with the story of her trauma in the past and the progression of her relationship with David. Ultimately, it is a novel about facing up to both the past and the truth and about loss and friendship. It is sad but hopeful and brilliantly written. Very highly recommended and marginally my favourite of the Autumn bunch.