It's time for some book reviews. These are some of the books I've been curling up with this summer…
Hello, Again by Isabelle Broom
Isabelle Broom specialises in taking her characters to wonderful locations and this novel is no exception. Pepper is an artist with little faith in herself; she is also dealing with a tragic loss. When she meets the hilarious Josephine, she gets the chance to travel for the first time in her life to Lisbon and then Barcelona on a trip designed to bring back memories of an old but never forgotten love affair of Josephine's.
However, the trip throws up more than memories. Pepper herself finds someone unexpected, but like all of life's journeys, things are never quite what they seem and are usually much more complicated… This novel is all about the journey and Pepper's journey involves not only being able to deal with the loss her family has suffered and her difficult relationship with her mother, but also involves the need for her to stop blaming herself and to see herself as the talented artist she really is. It's about dreams and adventures – and this book has lots of both.
The descriptions of Lisbon and Barcelona (and then Hamburg) as well as the home location of Aldeburgh, Suffolk are evocative and the characters are warm and easy to empathise with, especially Pepper and Josephine. In the book something beautiful comes from something broken – what's not to love?
The Other Daughter by Caroline Bishop
This dual narrative dual timeline story is set in 1970s London and Switzerland in 2014. London in the 1970s is a place where it was still hard for a woman to succeed in a man's world, and this is indeed the case for feminist Sylvia, a journalist who is determined to create a successful career. But when she falls pregnant and has to marry Jim much earlier than planned, it becomes harder for her to have it all. Writing about women's rights in Switzerland is how she gets her first big break as a writer – but what else happens to her in Switzerland? Her daughter Jess becomes determined to find out.
In Switzerland in 2014, Jess is battling with her own demons and trying to discover the truth. What she finds out is shocking, but it helps her to come to terms with her own life and her own frailties.
The book is packed full with interesting information about Switzerland and women's rights and yet the author still maintains a fast pace and holds the reader's interest well over both narratives, which are well-balanced although my primary empathy was with Sylvia and her fight with chauvinism. A good read which I found pleasingly different in its choice of both subject and setting.
Little Disasters by Sarah Vaughan
This novel is about the different experiences of motherhood as viewed primarily by Liz, a doctor, and Jess, a stay at home mother. It brilliantly captures the anxieties, the sense of guilt, and the emotional complexities of motherhood. But when Jess takes baby Betsey into hospital and Liz sees that the child has suffered a fractured skull which may or may not indicate suspicious circumstances, the story gets much darker as those suspicions threaten to break already fragile relationships.
Being a Sarah Vaughan novel, the story is not straightforward, and although one or two of the twists are guessable, there is much more that is not. And really, whether you guess what's coming or not, it doesn't matter, because that isn't the main point of the book. This novel will reassure struggling mothers everywhere that being a mother is never easy and never simple whether you are alone or married, whether you have been a mother before or not, whether you have the support of friends, whether your life seems perfect, whether you choose to work or stay at home. Whatever. There are no easy answers, but ultimately, the author suggests that friendship, support and non-judgemental understanding will pull you through and that motherhood may be difficult, but it's also intensely rewarding. It is a thought-provoking read and many of us have been there! Fast-paced, with warm and interesting characters, this psychological and intense emotional drama will have you fully absorbed from the off. Highly recommended.
The Flatshare by Beth O'Leary
I wasn't sure if this would be my thing. I love comedy – but only when it's mixed up with other stuff. Let me tell you – this is mixed up with other stuff and it's also brilliantly funny. First – I loved the premis. Tiffy is broke, has just split up with her boyfriend and is looking for a cheap flat. Leon, a nurse in palliative care working night shifts is trying to finance his brother's appeal and is looking for a way to make money from his one-bedroomed flat. He decided to offer up a flatshare – the only problem being that they would have to share a bed (at different times, naturally).
Leon has a girlfriend, Kay, who isn't keen on the idea for obvious reasons, but she offers to show Tiffy the flat, see if she's 'suitable' and well, Leon can stay at Kay's at weekends, so there's no reason for them ever to meet – is there? Leon and Tiffy agree to these terms, Tiffy moves in and their relationship (confined to post-it notes for a long time) begins.
I don't think it's a spoiler to say it's a bit like one of those lovely old-fashioned love grows through letters stories – but with a contemporary twist. And there's other stuff. The second thing I liked was the gorgeous, warm, funny, independent, and slightly goofy characters. They are so different, and yet… The third thing is the sub-plot of Leon's brother's appeal and oh yes, the other sub-plot of Tiffy's relationship with her controlling and coercive ex-boyfriend – who refuses to let go of his undeniable hold on her.
Put all these things together in a book which is well-written, sparky and funny, with sharp dialogue and bucketloads of emotion and how can you go wrong? Beth O'Leary doesn't. Very highly recommended.
All the Lonely People by Mike Gayle
Gayle is adept at combining humour and the poignant with a topical and thought-provoking subject and he does it again in this novel. Hubert Bird (what a fabulous name) is one of the Windrush generation who travelled to the UK on the promise of a better and richer life. As I'm sure was the case with many of his generation, he may have got the chance of a job (not easy) and made a meagre living, but those living conditions were poor, his prospects were bleak and some of the surprises in store were not pleasant ones. The cold and rainy British climate and the frequent racism he encounters being just two of them.
However, Hubert has a refreshing and positive view on life and when he meets Joyce, his life certainly improves. However, that was then (1950) and this is now (2019) and things have changed for the worse.
The story is written entirely in Hubert's viewpoint and in dual narrative time from those two periods in Hubert's life. We soon learn that although his relationship with Joyce brought Hubert happiness, he is now 'one of the lonely people' and it takes the intervention of his neighbour Ashleigh, with whom he forms an unlikely but rewarding friendship, for that to change.
This is a book about loneliness, but it's also about friendship and the importance of community. It is about racism yes, but it is also about love. It's sad but uplifting. A strong read that is highly recommended.
Listening to the radio the other day, I heard a presenter marvelling in an interview with a well-known film director and novelist at the fact that he referred to writing his novel in 'scenes'. 'You think like that because you're a film director,' he exclaimed.
Well, possibly. But I also think about my novel in scenes. And I'm definitely not a film director. This got me to thinking – why do I (and many other authors I'm sure…) think in scenes rather than just chapters?
Partly because a scene isn't the same as a chapter. You could have two different scenes in one chapter or one scene running over two chapters.
And also –  as authors, we're imagining events taking place before we can begin writing them. This involves all the senses, including the visual. We're imagining the whole scene, if you like.
When we're plotting a storyline, we're creating a sequence of events. But when we're deciding on certain questions about a small section of the story: where is this taking place? When is it taking place? Who is there? What is happening and why? Then, we're creating a 'scene'. (Please note I am avoiding the obvious joke here…)
An example from my current novel, From Venice with Love… Early on in the story, someone finds some old family letters. What she reads, piques her curiosity and sets her off on a pathway of trying to find out more about the writer of these letters, a watercolourist named Emmy.
So… It's Q & A time. Who finds the letters? Joanna. Where might she find them? In the attic. What is she doing there? Looking for some old childhood memorabilia. Why is she looking? To entertain her eccentric and difficult mother.
So now I'm getting to know the scene. Joanna will be in the attic looking for childhood memorabilia when she comes across some old and mysterious letters in an ancient and dusty trunk.
This is the scene. I know who is in it and I know where she is and what she's doing. I can add some atmosphere and some thoughts and emotions. Hopefully I am also adding an element of mystery along the way and progressing the story too.
This all sounds rather obvious. But crucially, as writers, at least if we are planners, this is how we might plot out every section of our novel in order to form a tight structure.
I remember PD James once saying that she preferred to write cinematically, and that she would choose to write first whichever scene of her novel was most drawing her at the time, regardless of chronological order. This was because the emotions would be the strongest. She was already emotionally invested in the scene.
I've done the same. If you feel confident enough, chronology can always be sorted out later. Writing cinematically allows the writer to visualise a scene and all the elements within it so that the emotions and thoughts can be explored and the story naturally progresses. Within each scene, there are other elements of structure to consider of course. For example – whose viewpoint are you writing in? How will you create tension? What senses do you wish to describe in order to develop more layers of interest in the story? How will you manage the pace?
But basically, IMO it's a great idea to get the scene in your head first.
Perhaps then, inside all of us novelists is a frustrated film director just waiting to get out..?
Where has the time gone? It's the last day of June and I just realised that not only did I miss posting here in May, but I also almost missed posting in June. I always have the same reason: I was immersed in a book – writing that is, not reading… In this case I was deep into the writing of my next book The Orange Grove which is to be published in 2021. But that's not all…
So here's a quick run-down of my June news: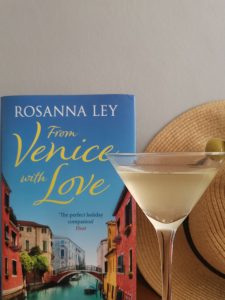 My new novel has been published in paperback! From Venice with Love hit the shops on 25th June and here it is with a delicious cocktail…
From Venice was also chosen for a Kindle promotion during June, which meant there was a lot of media work to do. There was so much support – it was wonderful and the book has done well in the Kindle charts.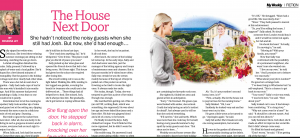 I wrote a few short stories for Hello, Woman & Home and My Weekly. Here's a peek…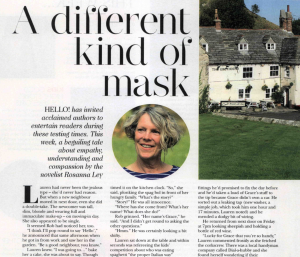 Also, I've been writing some features about our writing holiday for Booktrail as you can read here: https://bit.ly/2ZtGzV8
And for My Weekly. I've done a feature for The Lady and interviews with some lovely BookBloggers such as Jill's Book Café https://bit.ly/2BmaA1d. And the lovely Rebecca at https://bit.ly/2Byu6aL
I had a great chat with fab author Isabelle Broom whose latest book is called Hello Again. And here we are… https://bit.ly/38nGRAI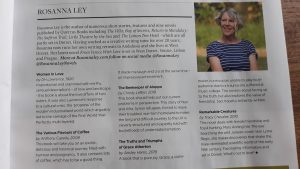 I also chose my five favourite 'lockdown reading' books for Dorset magazine.
I recorded two excerpts from From Venice for Booktrail and My Weekly on my balcony in the sunshine complete with birdsong… https://bit.ly/2BVv00W
So as you can see, I haven't been twiddling my thumbs. See you in July!