So, here we all are – still in lockdown and looking for a way to escape into another world. No? Well, if not, I'd definitely recommend doing so, pronto.
Having said that, this year's spring reading isn't all happy stuff but it's interesting – and there are plenty of different worlds on offer. Read on…
The Binding by Bridget Collins
This book caught my attention with its premis. Once upon a time, in the days after the Crusades when books were illicit and frowned upon (in this fictional world) there were people born to be 'binders' who could – with a person's permission – 'bind' them by listening to and writing down their memories. Somehow, in this intuitive and slightly magical process, the person would 'lose' those memories; they would only be once again accessible if the book were to be destroyed. Books were kept by binders in safety vaults, but naturally, some would fall into the wrong hands and people's secrets (that they no longer remembered) would be revealed. Some people considered binders a help to humanity since they allowed the bound person to forget their pain and suffering, some saw it as cowardly, others used the process to aid their own corruption. Novels were 'fake' since they were imagined rather than real memories…
It's such a brilliant idea and I wish that the author had explored in more depth the theory that we grow as human beings through our pain and suffering; that without these experiences we may fail to develop our full potential; life's rich tapestry and all that. The book is well-written though slightly laborious in the first half and slow to pull the reader in.  However, about half way through, I was completely drawn into the love story, the strength of which overcomes the 'binding' of the two individuals concerned. It's dark, atmospheric and truly mesmerising in places; a fascinating read.
On Chapel Sands by Laura Cumming
This haunting memoir has been described as being a love letter from the author to her mother and certainly it is her mother's life – which includes a mystery, a kidnap, and the silence of her community – which Cumming explores. The author is also an art expert and she uses pictures (both paintings and photographs) to illustrate her points and to represent parts of the story. It is a story which weaves and rambles (but in a good way). I love the language and style with which she describes the area in which her mother grew up; her prose is vivid and compelling.
The downside of the memoir for me, is that its personal nature makes the story seem a bit self-indulgent at times. However, Cumming does often make her personal observations universal and the existence of 'family secrets' is a compelling idea for many of us. It is a slow story too but every time I wanted to put the book down, there was a little twist to keep me interested. Perhaps sometimes the use of the art world is a little overdone, and the story does become repetitious at times. Nevertheless, I was drawn into the emotions of this family and fascinated by the intimate portrait of a closed community that it presents. The story is thought-provoking and inspired a fascinating discussion about personal memories in our book group!
The Tattooist of Auschwitz by Heather Morris
I was inspired to read this book, having seen the high number of glowing reviews and by the fact that it has been a huge best-seller. I expected it to be a hard read and disturbing, because of the content, but I was prepared for this. Yes, it was disturbing, but I also found the story-telling somewhat distant and strangely emotion-less (given the traumatic content), because of the 'reported' nature of the narrative. Only when I came to the end of the book did I realise why. Yes, it is one man's story of his time in Auschwitz, but it is his story as told (apparently) to the writer Heather Morris, who has then re-told his story from his perspective, but not fully in his perspective i.e. she has – for whatever reason – maintained an emotional distance; we are told of his emotions but not shown. It's reported. The same applies when Morris moves into the viewpoint of Gita the girl Lale falls in love with in the camp. This means that the reader, while naturally horrified at the facts presented, might also not fully engage with the characters' emotions.
I have also since read that the Auschwitz memorial society has questioned many of Morris's 'facts' concerning this time at the camp and even that Lale's son was upset by the fact that his name was wrongly written. His father's name was actually Lali. I am left confused. Is this story intended to be Lali's story or is it Lali's story fictionalised? Is this made clear in the book and does it even matter? These are questions for every reader to answer for themselves. And who is profiting from this story of human misery? Are some of the profits from the sales of this book being given to war survivors or to the family – and if not, should they be?
Jackie and Maria by Gill Paul
I enjoy fiction that has been written around a real life story and this is a good example. Jackie Kennedy, whose husband Jack was famously assassinated in 1963 and who went on to marry the billionaire Aristotle Onassis, and Maria Callas, the famous opera singer who was his lover for many years, are both strong characters who have been in the spotlight of publicity and celebrity throughout their lives. The third character of this story, the link between the two women was Ari himself, and although Gill Paul does not write from his viewpoint, nevertheless as a character he still features in a larger than life way.
Their story is an eventful and emotional one. The author explains in her notes at the end of the book where she has taken dramatic license with the true historical facts and I think this is a good thing as it is tempting to believe every word of this captivating story and to forget that it is in fact a fictionalised version based on the truth as we know it.
These three are all charismatic characters with powerful personalities and all have a different way of dealing with the publicity they inevitably attract. I was fascinated to read about them and found their story played out against an intriguingly political and glamorous backdrop both dramatic and compelling.
The Dream Daughter by Diane Chamberlain
When Carly discovers that the baby she is carrying has a serious heart defect that will be fatal, she is naturally devastated. It is the 1970s, she has recently lost her husband to the Vietnam war and now it seems she will lose her baby too. But her enigmatic brother-in-law Hunter knows a way that Carly can save her daughter. All she has to do is make a huge leap of faith. Can she trust him and how can his plan possibly work?
This unusual story is packed with interesting characters, an unlikely premis and plenty of dramatic twists and turns which make the story both compelling and original. The structure of the novel is fascinating – it has been cleverly plotted; every small detail is there for a reason. Diane Chamberlain writes with great warmth and emotion while a fast pace keeps the reader gripped and the pages turning. Highly recommended.
A Single Thread by Tracy Chevalier
Tracy Chevalier excels at evoking the kind of fine detail that creates a strong sense of authenticity and realism in her books. And this is the perfect vehicle – a novel about the 'broderers' who make kneelers and tapestries at Winchester cathedral in the 1930s.
In particular, the novel features Violet Speedwell, one of the so called 'surplus women' surviving the losses of the first world war – Violet's brother and fiancé were just two of the casualties. Her mother is embittered and domineering, whilst Violet just wants to get away and have the chance to lead a satisfying and independent life. This desire takes her from Southampton to Winchester where she becomes one of the famous 'broderers'. She meets two women, Gilda and Dorothy, also searching for some acceptance outside social conventions and forms a potentially dangerous liaison with the older but charismatic Arthur, a bellringer, whose wife is still suffering from her wartime losses.
The novel shows us how difficult it was for women to find and sustain an independent life in this time. Independence comes at a cost – Violet may be pitied by her married female peers but she is judged by men, very few of whom understand how difficult it is merely to pay the rent. Men also pose a threat, especially to a woman who dares to stray outside the boundaries of those acceptable social norms.
This then is a book about loss. It is also the kind of book that embraces the reader and pulls them into Violet's life and time. It is also about creativity – the descriptions of the embroidery and the bellringing are just wonderful. And it is about feminism too. I loved it. Highly recommended.
It's eight years since I visited Burma to research Return to Mandalay and it was an amazing experience.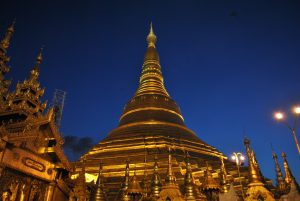 We began the trip in Yangon. At 6.30 a.m. it was already so hot that the Burmese were using umbrellas as sunshades. First up was the Shwedagon Pagoda – it's immense and beautiful; it also has an air of spirituality unlike anything I've ever seen; truly awe-inspiring.
Architecturally, Yangon has retained much of its colonial history; it's poignant to observe the differences in the Burmese living conditions, both now and then.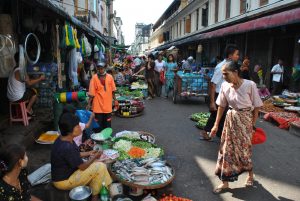 The lively street markets haven't changed hugely since that time; the flavours and aromas of woodsmoke and sweet frying oil, of incense and the smell of the sewers running just below the broken pavings, all remain… In Return to Mandalay, Lawrence meets Maya in one of these markets. So far, so romantic..?
Lawrence would have stayed at one of the colonial buildings on the waterfront, probably the Strand Hotel where my late father-in-law Peter Innes stayed in the 1930s. Peter worked in Burma in the logging industry and served with the Chindits during the second world war. His wife Hazel kept a lot of excellent source material, especially records from his company, Steele Brothers, books about Burma such as Helen of Burma by Helen Rodriguez, which gave me valuable information about nursing and hospitals during the war in Northern Burma, and photographs – pretty much gold dust for a writer.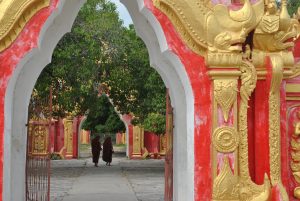 From Yangon we took an internal flight on a tiny and fragile plane to Mandalay and went by road to Maymyo where Lawrence would have stayed at a colonial 'chummery,' now a guesthouse, and where Maya's family had a weekend home. Maymyo is ridiculously British… Anyone visiting Burma should read George Orwell's 'Burmese Days' for sure.
On which note, the Royal Palace and Cultural Museum in Mandalay provide important information about the final Burmese dynasty when Queen Supayalat and King Thibaw were ousted by the British and all their riches 'confiscated'. If you're British, it's not something to be proud of sadly.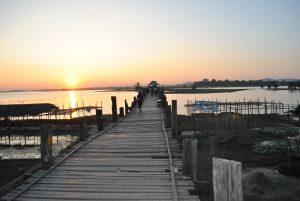 We also walked along the famous U Bein bridge – it's thought to be the longest and oldest teak bridge in the world and it's quite something.
It was in Mandalay that I experienced my first earthquake…. We spent the night in the foyer of the rickety hostel we were staying in. It was as scary as it sounds but miraculously we and even the hostel survived.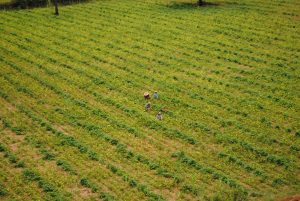 Inwa was like going back in time – there's no motorised traffic; everyone travels by horse and cart or bicycle. It must have been a bit like that for Lawrence in the 1930s, though there wouldn't have been so many children trying to sell crayoned fans and melon-seed bracelets!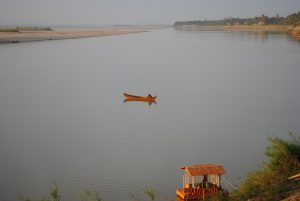 Finally, we travelled for ten hours by boat along the Irriwaddy River to Bagan, home to thousands of temples.
On a practical note, when we visited Burma, I was advised not to write openly in my notebook, as this could be seen as a politically threatening act, and also not to declare my occupation as 'writer' on my entrance visa. This meant storing thoughts and observations until I could write them down in the safety and privacy of our room at the end of the day. I still did a lot of writing though – turns out it flows more easily when it's not allowed…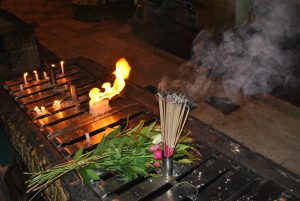 Return to Mandalay is only very loosely based on Peter Innes's story. I also talked to Bill Johnson one of my creative writing students from Alston Hall, Preston, who had served in the second world war in Burma and who had a lot of stories to tell. And I read the memoirs of the late John Sams, father of our friend Mervyn, who fought with the Ghurkas there. Sadly, all of these men are now deceased but hopefully their stories live on to some small degree, in this fictional world.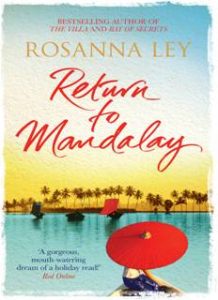 https://amzn.to/3auCd4l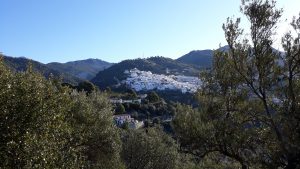 This February 2020 I took a writing group to the finca el cerrillo situated in the mountains of Andalucía near the small and unspoilt village of Canillas de Albaida. We've held a writing holiday here every year in early July for the past eleven years, but this was the first time we've visited in February. And it was fabulous…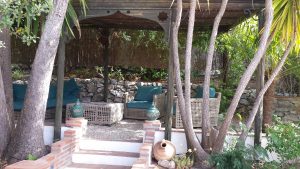 The finca hotel – once an olive mill – is run by Gordon and Sue Kind who have carefully retained its original character whilst creating a quirky but luxurious boutique hotel in gardens set within an olive grove and planted with palm trees, carob, hibiscus and jasmine, so that intoxicating scents follow you as you walk down the meandering paths and terraces.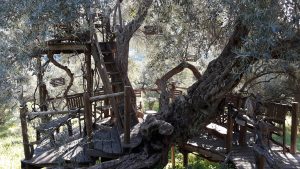 There is a white air-conditioned studio/ workroom, outside courtyards and terraces with plenty of sunny and shady chill-out areas, an indoor salon for dining in the chillier months and an outside pool for the warmer ones. There is even a two-storey tree house created by Gordon in the branches of an ancient olive tree, complete with chairs, tables, candles and fairy lights.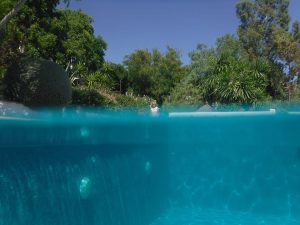 What I love most about this special place is the air of tranquillity. It embraces you the moment you arrive and then you just sink deeper and deeper into the peaceful vibe. It's magical.
In our morning writing sessions, we do various writing exercises, including visualisations and freewriting, focusing on a theme and practising a writing technique (for example getting to grips with viewpoint/ structure/ plotting / imagery or whatever it might be that day). My aim is to provide a springboard for ideas that can either be used to create new writing or develop an existing work in progress.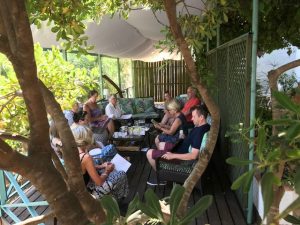 I will also read a piece of work and offer 1 to 1 sessions during the week to discuss this. The rest of the day is free for participants to write (or relax!) until the late afternoon when we have a group 'reading of writing' workshop.
And it's not all about the work… The food at the finca el cerrillo is superb; we go out to nearby restaurants on three evenings for a change of scenery and there is a day off during the week when Sue can arrange a day out to Malaga old-town or Nerja on the coast, for example.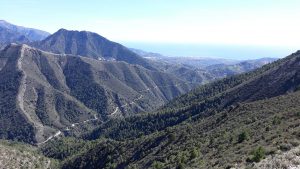 This week, Sue and Gordon took a small group of us on an easy-going mountain hike on the old Silk Route, which was just brilliant. And the evenings were great fun, especially the final 'Desert Island Discs' night…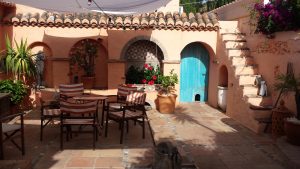 This week's group quickly settled into life at the finca and soon formed a supportive, sharing and trusting group. The writing ranged from autobiographical memoir to historical romance, taking in plenty of emotional drama and humour along the way. Some writers were more experienced than others but everyone seemed to find ways of adapting the writing exercises to progress their own writing project. It was wonderful to witness this and I loved listening to their words.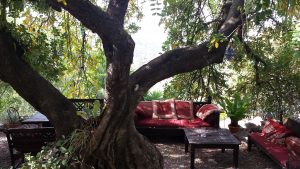 As someone said – 'what a week…' The writing was powerful and lots of emotions were coming to the surface – but definitely in a good way. There was plenty of laughter and also some tears. I so enjoyed working with this very special group and hope that they will all return to the finca on another writing holiday very soon.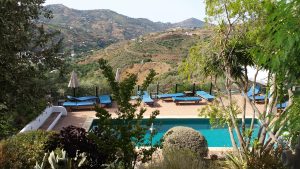 These are the dates for our next writing holidays:
6th – 13th July 2020
27th February – 6th March 2021
Check it out…
https://www.tripadvisor.co.uk/Hotel_Review-g1078241-d674670-Reviews-Finca_el_Cerrillo-Canillas_de_Albaida_Province_of_Malaga_Andalucia.html
Some comments from the February 2020 writing group
'What an incredible week – we all learned a huge amount, and had such a lot of fun as well.' 
'I couldn't believe the finca would be as beautiful as the website portrayed, but it was even more so.' 
'Can't believe it's over. Feel slightly bereft.' 
'Such a special week with amazing people.' 
'The best week I have experienced in my writing life – the beautiful finca and the surrounding villages and towns, the amazing workshops and learning opportunities, and one of the warmest, friendliest, most generous groups of humans I have had the privilege of working and playing with. Just brilliant.' 
'How amazing is it that we arrived as strangers and left as friends?' 
'What's really special about the retreat is that the environment and the group leadership mean you can leave all your other hats at the door and just be a writer for one week. I know my skills came on in leaps and bounds and I achieved far more than I set out to.' 
'It's restored an impetus and confidence I needed that was lacking after a really difficult few months. I would love to go back.' 
'The February Writing Week at Finca el Cerrillo was a perfect balance for me. Inspiring morning workshops were directly relevant to my WIP and the afternoons offered enough dedicated time to write while the early evening feedback sessions, with a great group of supportive co-writers, helped build confidence and the whole programme formed the basis of really enjoyable relaxing evenings! Rosanna is an excellent teacher/coach/motivator and I found her one-to-one sessions exceptionally useful. We all admired how much hard work and dedication she gave to making the week a great success as well as great fun. The location was lovely, wonderful friendly hosts and superb food. Wish I was still there! ' 
Email me for more details…