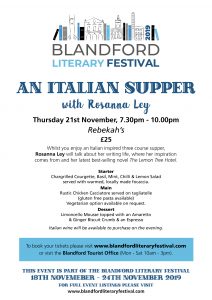 Here's the delicious menu for our Italian supper in Blandford Forum Thursday 21st November.
I will be talking about The Lemon Tree Hotel and answering questions about writing process and research – so there will be lots of bookish chat…
I'm delighted to be part of Blandford's first literary festival and wish them all the best for many successful events.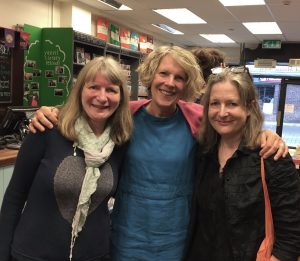 It's hard to define the 'spirit of place' which is the subject up for discussion at Bridport Library on Sunday 3rd November 2019 as part of the Bridport Literary Festival.
The authors who will be discussing the 'spirit of place' are myself, Maria Donovan author of 'The Chicken Soup Murder' who has just been named First Prize winner of the Bridport Prize in the category of flash fiction and Gail Aldwin author of 'The String Games.' Place is an important element for all of us in our writing.
Speaking for myself, I am a keen traveller and my interest in other countries and cultures has led me to write many 'destination' novels in which I explore places such as Italy, Spain, Cuba, Burma and Morocco through the eyes of my character(s). This involves a lot of research about the history/ legends/ cultural practices/ people/ politics/ food etc before I even go there to (hopefully) find the true flavour.
I go to these places to walk the same pathways as my characters, to see the place as they would see it, to eat the same food and so on. Once there, I can watch, listen and observe. I can choose more specific venues there – for example, houses in which my characters might live, places in which they might work or walk to; settings in which certain scenes might take place. I can make notes and take photographs and then when I eventually write the scene, I can hopefully get as close as possible to the experience. Ideally, I can write some of my scenes while living in that place too.
Perhaps many of us want change; even to be 'transported' somewhere by a piece of writing, to feel that they are living for a brief time in a different world?
Stories come from places and from people; from the landscape and the culture. For me, a place might be my choice because it fits in with a theme I want to explore in a novel (for example in 'Her Mother's Secret' I wanted to write about an island and how islands can be both claustrophobic and also somewhere to escape to – Belle-ile-en-mer off Brittany, France, fitted the bill completely). It can be part of the story already as Burma was for me in 'Return to Mandalay' a book in which I explored a fictional version of my late father-in-law's true life story. Or it can be a place that means a lot to me, in which I want to spend some time (like 'The Lemon Tree Hotel'). It is more than another character in a novel. It is the setting and creates the mood, the atmosphere, the all-important 'feel'.
The 'spirit' of a place can draw us to visit and to eventually live our lives there. I spent many years visiting and writing about West Dorset before I moved here and made it my home.
But what is it that draws and interests us? Is it the people, the landscape, the pace of life..? Or is it something much harder to define that speaks to our soul and makes us feel that this is truly 'home?'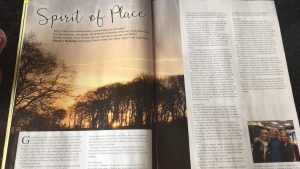 There are plenty of reasons for writers to go on a writing holiday or retreat – some of which can be found here on my Writing Retreats and Events page. But why do full-time working writers (like me) want to host a writing holiday?
You might think the reasons are obvious – especially if you have visited the finca el cerrillo. But the writing holiday to be held here in July 2020 marks ten years of bringing a writing group to Andalusia, and since I love a list, I thought I'd make one.
The seven reasons:
Going away to write with writers is a mark of intent. I am not going away to research a new novel. I am not going away on holiday or to spend time with a loved one. I am going away to think about writing, to talk about writing, to be with writers and maybe even do some writing myself. Hurrah!
A Writing Holiday is just what it sounds like. It is for writing. But it is also a holiday – a chance to take a break from the rest of my life. I will work hard all week (honestly) and I will try to do my best for every member of the writing group, to help ensure that everyone has a good time and achieves what they want to achieve. But the writing holiday will also give me space in which to relax and find some me-time, some reflective time, some meditative time.
This 'me-space' comes about because Sue, Gordon, Alison, David and all the team at the finca are brilliant at organising the day to day practicalities. Which leaves me free for the writing stuff. The most we have to worry about is what dishes we may choose from a menu, whether or not we will have a massage or where we will go on our day off. Ha! (Lovely, eh?) All the food is provided, all the transfers organised, taxis are waiting to swish us off to the local restaurants we visit. A smooth-running and established routine combined with a welcoming and friendly atmosphere allows us to relax and to write.
I love talking about writing! And there's plenty of opportunity here…
Other writers are inspiring. I have always enjoyed working with writers in creative writing workshops over the years and the writing holiday groups are no exception.
I have made good friends and I enjoy meeting up with them here in Andalusia at the writing holiday. There are names on my booking list for July 2020 that were there in 2010, while others have come and gone and sometimes come back again. Each year there are a few new faces and the group evolves and changes in a fascinating and wonderful way!
The place is both tranquil and inspiring. The finca is a restored 200 year-old farmhouse situated close to the traditional Andalucian villages of Canillas de Albaida and Competa, high in the foothills of the Sierra Almijara, Southern Spain. It has been carefully restored to preserve the charm and character of old Andalucia whilst providing the modern comforts of a small and charming hotel. The rooms are individually styled, spacious and air-conditioned and there are plenty of places inside and out to sit and write or just relax and enjoy the peaceful surroundings. The terraced gardens with carob and palm trees surround both sunny and shaded patios, the Finca has its own olive grove, and the swimming pool and deck areas have stunning views – as you can see from the photos on the web site…
Yeah! So… Tranquillity and inspiration are sometimes hard to find. Because I find them both here, because I love bringing writers to this special place, because I so enjoy getting to know these people and their writing, because the writing holiday gives me the space we all need sometimes, and because I love being a 'writing tutor'… I shall continue coming here for as long as I possibly can! Oh, and if you ever want to join us, just get in touch.