It's been a lovely spring so far with lots of fabulous reading as ever. Here are a few of my favourites:
Bitter Orange by Clare Fuller
Ill and dying, Frances Jellico is looking back on her life – particularly to an eventful summer in 1969. Having been her mother's carer for some years, after her death, Frances goes to live at a run-down manor house (Lyntons) to provide a detailed report on the architecture there for the American owner. But she is not alone. At Lyntons, she meets an intriguing and bohemian couple, Cara and Peter; the man tasked by the buyer with evaluating the contents of the estate. Frances is awkward, naïve and totally bowled over by the two of them throughout this long, hot summer. This may be a chance for her to release the tyranny of her life with her mother and let go at last. But Cara and Peter's relationship is complicated and as Frances is drawn into their circle, her relationship with each of them becomes equally so. Meanwhile, she also becomes friendly with the local vicar who intriguingly is also there at her bedside as she reflects on the past and what she has become.
The story is told from the point of view of Frances and explores issues of loneliness and belonging. But can Frances really belong in Cara and Peter's world in 1969? Perhaps not. The book is character driven and Fuller draws some fascinating portraits that leap off the page. The plot has some twists and turns as all is gradually revealed but it is a book to savour. It is sometimes unsettling, always thought-provoking and stayed with me long after I had finished reading.
Believe Me by JP Delaney
Who to believe? This is another fascinating story by one of my favourite authors exploring the world of acting and make-believe. What is real? What is pretence? What is imagined? Most of the time in this book, it is impossible to know.
Claire Wright is training to be an actor in New York but her lack of a green card has forced her into the rather more unorthodox job of catching out husbands who have the intention of being unfaithful to their wives. She is very good at this – mainly because of her immersive acting skill. But things get a bit more complicated when there is a murder – and since she has done a job for the victim, Claire is one of the suspects. But her name must have been cleared – why else would she be trained to work undercover in order for the police to find out the truth?
Also under suspicion is the victim's husband – the one 'good guy' who didn't fall into Claire's honey-trap. But is he a good guy – or not? And is Claire telling the reader the truth – or not? Fortunately, after a roller-coaster drama which is emotionally gripping and will certainly keep you guessing, we do find out. Highly recommended.
I Let you In by Lucy Clarke
If you are thinking about renting out your house on Air B & B, probably best not to read this one – or maybe you should… Lucy Clarke's latest novel is psychological suspense at its best – I defy you not to feel chilled.
Elle Fielding's first novel was a runaway success and the proceeds have helped her to turn a little cottage on a cliff in Cornwall into a light, airy and beautiful house with far-reaching views over the Cornish countryside and sea. It has the advantage of being close to her sister Fiona and her family and Elle should be loving it. But her life is not quite as easy and magical as it seems. She is struggling with her second novel and she has run out of money, while still owing the bank and the builders. What should she do? Well, she decides to rent out aforementioned dream home on Air b&b in order to earn some much-needed cash while she is away on a writing retreat. When she comes back however, she feels that her house has not only been entered, but somehow violated…
Whoever has got into the house then proceeds to try and get into Elle's head – while she desperately tries to meet her writing deadline against all the odds. No spoilers here – but the plot twists and turns very satisfyingly until the final and shocking denouement. The characters are all three-dimensional and interesting, the setting is wonderful and the tension never lets up. I loved it. Highly recommended for all psychological suspense fans.
The Missing Sister by Dinah Jefferies
Belle Hatton is working as a nightclub singer in 1930s Burma, and determined to find out what happened to the sister she has only recently found out she had. Why was she never told about the existence of Elvira and who was responsible for her disappearance? But when Belle starts asking questions, she is confronted with unsettling rumours, malicious gossip, and outright threats. She is drawn to Oliver, an attractive, American journalist, but can she trust him?
Dinah Jefferies captures the atmosphere and culture of 1930s Burma with her usual consummate ease. And especially the different layers of colonialism – the country may be vibrant, colourful and exotic, but behind the glamour there is a much darker side…
An interesting aspect of the story is the author's exploration of family relationships – especially Belle's well-established view of her mother – what she has been told, what she has experienced and how these 'truths' contradict the reality we seem to be given in the other narrative – her mother's story of the previous decades. So what is the truth and whose memories are the accurate ones? The blurred lines are well handled here – family relationships are generally complicated!
As always, Dinah Jefferies draws her reader into her story with fluency and a natural and authentic voice. Atmospheric and evocative – a hugely enjoyable read.
The Fear by CL Taylor
This story deals with some dark issues – in particular the subject of grooming and how traumatic this can be for the victims of such a crime. And the victims are not just the obvious ones – there are family victims too on both sides.
Lou Wandsworth, the initial narrator, looks back to this time in her life (in one strand of the story) when she was fourteen and went to France with her karate teacher Mike Hughes, thinking it was just for a romantic weekend and convinced he was the love of her life. But Mike wasn't what he seemed and he left her psychologically traumatised. Since then, Lou has been unable to trust or maintain a relationship with a man.
We also have the contemporary time narrative when at 32, Lou discovers that Mike is once again involved with a teenager. Determined to prevent him from ruining another young girl's life, Lou confronts him – with surprising consequences.
CL Taylor brings plenty of twists into this story and broadens and deepens the tale by including the viewpoint of the other young girl, Chloe, and another narrator, Wendy, who is also a victim. It's perfectly paced and another chilling, compelling read from this author.
And Then It Happened by Linda Green
This was another one I couldn't put down. It starts off in quite an ordinary way – Mel is married to Adam, they have one daughter and they are one very happy family. But Linda Green manages to make this quite chilling – the reader is waiting for something to happen (which is why this is such a good title). Mel is convinced that something so good can't last forever (why would she though?) and of course she is right. When it does… Everything changes.
Mel is also given a 'dark secret' which helps build the tension, but when the secret was revealed, it was a bit of an anti-climax for me.
This one is so hard to write about without giving any spoilers. I found Mel a little annoying at first but as the book developed, my feelings changed. Adam's narrative is that of two people (which will make sense when you read the book) and each one is convincing.
Linda Green has used her imagination a lot in this story – but clearly, this is based on significant research. Is this how it would be? Well, maybe so. Although the pace of the story can be a little slow at times, this is no problem for me – I enjoyed having the time to get to grips with the characters' lives and emotions.
An emotional, gripping and thought provoking read.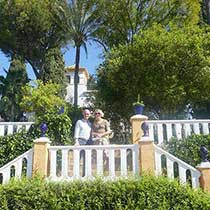 March madness for me has included revisions on next year's new publication – this now has a name – hurrah! From Venice With Love…
It has involved writing some articles and short stories – most of these will be published in June to cleverly coincide with the paperback edition of The Lemon Tree Hotel, but one exception was a 4 page spread in YOU magazine in Mail on Sunday a couple of weekends ago about a fifties gap year in a camper-van that I took with my husband Grey (who wasn't my husband then, so it wasn't all bad). It just shows that everything can be material – even 10 years later! And it surprised me how much I enjoyed re-visiting this experience 🙂
But my main March mission was researching for a new book… The book is going to be set in Seville, I've worked out a storyline but I haven't started writing it yet (see above ;)). So, we went to Seville to visit the city – which is beautiful – to a nearby organic orange farm called Huerta Ave Maria, to Cordoba, Cadiz, Mazagon and Donana national Park. Yes, it was pretty full on. And HOT, let me tell you.
My main character Holly will be buying organic oranges from the lovely people at the Farm and importing them to Dorset where she will be using them to make Seville Orange marmalade. She will also be buying in neroli fragrances and soaps (fun research!) and orange wine (even more fun research). There are over 40,000 bitter orange trees in Seville and right now many of them are out in flower. The scent is heavenly.
I hope I'll be able to get some of that heavenly scent into my book when I come to write it. Working title: The Bitter Oranges of Seville.
Head down then…
I have clearly been far too busy reading and writing to keep up with this blog… (!) So with all this talk of Christmas going on, it seems only fair to share some of the latest reading goodies devoured here during the past few months.
I have clearly been far too busy reading and writing to keep up with this blog… (!) So with all this talk of Christmas going on, it seems only fair to share some of the latest reading goodies devoured here during the past few months.
Starlight on Palace Pier by Tracy Corbett
Tracy's latest novel is set in Brighton, close to my old stomping ground and this vibrant city certainly comes to life in 'Starlight'.
After an injury de-rails her dream of becoming a professional dancer, Becca Roberts heads home to Brighton in search of a fresh start and finds herself the position of dance teacher at the run-down and crumbling Starlight Playhouse. On the plus side, her cousin Jodie has recently obtained a managerial post so they can work together, on the minus side (apart from the condition of the place and the sad lack of clients) the playhouse is owned by the mother of her old flame Tom. He won't be around because he is a London lawyer and high flier… Or will he? It seems that Becca underestimated the challenges that she will have to face at the Starlight Playhouse.
Add in some slapstick and a thought-provoking subject or two, some irrepressible characters and the fact that the course of true love will never run smooth and there you have it. This is another hugely enjoyable read from Tracy Corbett. In Tracy's books you can guarantee a healthy dose of humour and escapism. The characters are warm and funny, the dialogue sparkles and you know that romance is never far away. This novel is heart-warming and inspiring – a perfect antidote to a rainy day.
When I Find You by Emma Curtis
An unusual premis for this one, which was rather far-fetched at times – but equally refreshing and original.
Laura Macguire works in advertising and suffers from 'face-blindness' (prosopagnosia). She has strategies for coping with this condition at work and in her private life, but it also leads to difficult situations – none worse than when she leaves the office Christmas party with the wrong man, spends the night with him and in the morning after he has left has no idea of his identity.
So begins a complex domestic noir which explores the issues of sexual consent and human identity. Although I said: "Really?" to the novel/author on more than one occasion, it never failed to be totally gripping. Laura's quest to find out who tricked and therefore raped her holds the story together, but a sub-plot cleverly interweaves with this until the two stories merge. I confess that I guessed both twists but I still think they were cleverly done and it didn't spoil my enjoyment of this excellent novel.
Temptation to be Happy by Lorenzo Marone
I loved this. The narrator is 72 year-old Cesare Annunziata who considers himself a sociopath and who lives alone in an apartment block in Naples. His adult children Sveva (fierce and unhappily married) and his son Dante (gay and runs an art gallery) live nearby and he has several neighbours with whom he interacts, including The Cat Lady who lives opposite and a young couple nearby. He also has a 'lady friend' Rossana, who is a prostitute. The story centres around these (often hilarious) interactions and Cesare's regrets and observations on his life to date.
Added to this mix of wit, philosophy and wistfulness is another darker story. Cesare discovers that his neighbour Emma is being physically abused by her violent husband. Cesare must break all the rules of a lifetime of not interfering or getting involved with other peoples' lives in order to help her. But will this be enough? And what about his children and grandson? Can he break down the barriers to which he has always adhered  and become close to them at last?
Lorenzo Marone shows us in this novel that it is never to late to heal our relationships with our nearest and dearest and that we should do all we can to be happy. Highly recommended.
He Said/She Said by Erin Kelly
Definitely my kind of book, this is a slow building psychological thriller with some excellent twists and turns. Reading a few reviews, I'm surprised that so many people don't enjoy the alternating point of view – I really like this narrative device and find it gives me much more of an overall feel of the world being written about, as well as adding intrigue and variety.
On to the book. The text is divided up into parts that correlate to the stages of a total eclipse of the sun. I suppose this acts as a metaphor and the information given was vaguely interesting, but for me it served only to develop the character of Kit. In the end it explains a lot. In 1999, Kit and girlfriend Laura attend an eclipse festival in Cornwall where Laura witnesses a rape. She goes on to befriend the victim, Beth. After testifying at Beth's trial, Laura and Kit think that it is all over. However, Beth won't leave them alone. She finds out where they live and stays with them for a while, thoroughly insinuating herself into their lives and making them question whether she was a victim at all. To escape from Beth and the rapist who also seems to be pursuing them, Kit and Laura go off grid, even changing their names in an effort to escape the past.
But of course, you never can (at least in fiction). And as always there is more to the past than we were led to believe. The twist – when it eventually comes – is thoroughly convincing, although also rather depressing. I really enjoyed this book and couldn't put it down – the slow-burning tension is palpable. It's clever – but not nice.
Without a Word by Kate McQuaile
The story begins well and at a fast pace. Orla and Lillian are chatting on Skype, the doorbell goes, Lillian goes to answer it… and never comes back. It's a great set up for what is to come, is original and presents the mystery that dominates the story. What happened to Lillian – and is she alive or dead?
Fast forward 10 years and Ned the original detective is re-opening the investigation following a spate of poison pen letters. There is a lot of information about his personal life given – presumably to set up a sub-plot of his relationship with his ex-wife and kids – but this felt a bit overdone to me. Ned just wasn't interesting enough to warrant so much space. However, the main mystery continues to hold the interest although the characters do seem to behave rather strangely at times.
I really enjoyed McQualie's writing style which was fluent, readable and nicely conversational. And the tension remained at a good simmer. But unfortunately, I did guess the twists – mainly because there were so few alternatives on offer and other characters' actions gave too many clues away. Nevertheless, I would still recommend this book and will be reading more by this talented author.
The Rest of Me by Katie Marsh
This is my first Katie Marsh read and I found it totally immersing. She is very good at writing about emotions and family life, and what the novel lacks in plot and twists it certainly makes up for in emotional content.
The main narrator is Alex – mother of Jenna and Izzy and wife of Sam. The story opens with Alex donating a kidney to Sam but this incredible act turns out to have consequences she never dreamed of. Instead of bringing them closer together, the family seem to be drifting further apart. Alex's recovery is slow and painful and she finds that she can no longer be the controlled and organised 'Supermum' that she has always been up to this point. Moreover, the current situation is bringing back painful ghosts from the past that she has never fully acknowledged. It is difficult to witness this family unravelling.  Problems pile on top of one another and it seems to be harder than ever for them to reach out to each other and tell the truth about how they feel.
The family relationships and characters are very well drawn in this book and the issues feel recognisable and authentic. Izzy's voice is convincing – her passion for football, her love for her family, her desperation when things go wrong – all these are handled with great sensitivity. The novel is well-written and – eventually – uplifting. Put simply, it just feels so real…
Fatal Inheritance by Rachel Rhys
Ah. This is definitely my kind of story. I was drawn in by recommendations and by that fab cover – so decadent, so alluring… The main character is Eve, married to dull Clifford, trapped in a loveless marriage post-war living a pretty much joyless life where everything (including love) is still rationed. Enter a mysterious letter… Eve has an inheritance and she must go to the South of France to discover the nature of it and the reasons behind it.
This mystery holds the story together well, particularly because it avoids the predictable and the obvious. But the main joy of the book for me was the character of Eve and how she responds when she is thrown into an entirely different life on the French Riviera; a life of pleasure-seeking, sunshine and glamour which is a million miles away from her own experience in England. There is a sense of her becoming her own person at last as she expands her horizons and learns some important lessons about the present and the past – both of which impact on her future.
The setting is well-drawn and seductive. Eve is a character with whom it is easy to empathise and the other characters that populate the novel are nothing less than fascinating. Rachel Rhys's writing style is fluent and engaging and the book is compelling. I loved it. Highly recommended.